2009: #43 – Full Blast (Janet Evanovich)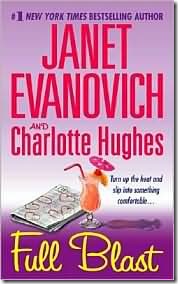 Book #43 was Full Blast, the fourth book in Janet Evanovich's Max Holt series.  The back of the book reads:
There's never a dull moment for the residents of Beaumont, South Carolina. Lately, a heat wave's spiked the mercury-and everyone's sex drive! These days, when Jamie runs into Max, it's all she can do not to tear his clothes off-and the feeling is mutual. But trouble seems to follow Max like moths to a flame, and Jamie suspects he's all wrong for her. Meanwhile, the lingerie shop is having a sale on edible underwear, while the bakery's selling aphrodisiac-laced brownies and x-rated birthday cakes. Even Jamie's dog, Fleas, is dodging passes from the amorous French poodle next door! But when someone starts bumping off some of the town's more annoying citizens, all clues lead straight to the new personals section in Jamie's newspaper. Pretty soon, things are getting hot and heavy, as Max and Jamie start uncovering secrets-and undressing each other…
This was another fun quick Evanovich read. The mystery here is closer to home than in the previous book, and it looks like Max and Jamie might actually be getting more serious. Not a lot of substance here, but enough fun to keep me reading!
Page count: 352 | Word count: 69,327
2008: Dark of the Moon (John Sandford)
2007: The Husband (Dean Koontz)
2006: Darksong Rising (L.E. Modesitt, Jr.)
2005: Vengeance in Death (J.D. Robb)
Used in these Challenges: 100+ Reading Challenge 2009; The 999 Challenge; Read Your Own Books Challenge;