2009: #6 – Summer (Edith Wharton)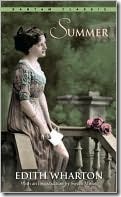 Book #6 was Summer by Edith Wharton.  The back of the book reads:
A new Englander of humble origins, Charity Royall is swept into a torrid love affair with an artistically inclined young man from New York City, but her dreams of a future with him are thwarted. A bold, provocative work, SUMMER was an immediate sensation when first published in 1917 and still stands as one of Wharton's greatest achievements.
The first thing that struck me when I finished this book was how times have changed.  This was considered extremely provocative when it was published, yet Charity and Harney are only described kissing a few times, and are never described doing anything else. Charity strikes me as a very unhappy young woman, and even ungrateful.  She lives with her much older (and yes, imperfect) guardian, and treats him with nothing but scorn throughout the entire story, even though he took her in and cared for her for almost her whole life without any obligation. He gets her the job she desires, and she treats it with scorn also, often abandoning it to lay in the fields for the afternoon.  I can see that she is lost, but I found little reason to want her to have a happy ending.  How Harney treats her is unfortunate, but she also looked at him with closed eyes.  Harney fails to get his due, which I suppose is mostly a sign of the times — the man always gets away with it, and the woman is left to clean up the mess. The ending — Charity basically giving up on her dreams — may seem sad to most, but the way I see it, she had other choices and her own blindness and stubbornness led her to that ending.
I read this for a book club meeting tomorrow night, and I can't wait to see how the discussion goes!
Page count: 224 | Word count: 57,625
2008 – Dead Witch Walking (Kim Harrison)
2007 – Between Friends (Debbie Macomber)
2006 – The Rule of Four (Ian Caldwell and Dustin Thomason)
2005 – D is for Deadbeat (Sue Grafton)
Used in these Challenges: 100+ Reading Challenge 2009; The 999 Challenge; A-Z 2009 Challenge; Support Your Local Library Challenge