2008: #99 – Like Glass (Matthew Cory)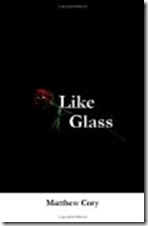 Book #99 was Like Glass by Matthew Cory.  The back of the book reads:
What would you do if the one person you hated most
Died?
If the person who stole
The love of your life
Would never see another day?
How would you feel?
Would you laugh?
Would you cry?

This is the issue that Rob Jackson faces.
This is the dilemma that Like Glass begins with.
A phone call from his brother's widow begins his turmoil.
A phone call from a voice he tried to forget launches the avalanche.

How would you feel?
Like Glass is Matthew Cory's debut novel, and I think he did quite a good job.  This is a love story, but it doesn't follow the path you would expect.  When Rob get the call that the brother he hasn't seen or spoken to in 8 years is dead, his life completely changes.  Rob himself is an imperfect character… He allows 4 short days in his life to completely change the course of it.  Personally, I thought his reaction was a little bit overblown.  I could understand it being the last straw with his brother — after all, he'd been mistreating him for a long time — but Rob's reaction to losing a girl he'd only known for 4 days was a little much.  But as the novel continues, it starts to feel to me like it's supposed to be overblown, perhaps a sign of an underlying mental illness?  Regardless, Rob takes quite a journey through this novel, one filled with a little love and a lot of loss, and at the end I think he has become a much better man. Though it's a strong effort for a debut, I can see that the author has some room to grow, and I look forward to his second novel.
You can find sale information on the novel, as well as Matthew Cory's blog and other shorter works he's completed at http://chocolatefordogs.com/.  He also has podcasts at http://chocolatefordogs.com/category/podcasts/ In the podcats, he's doing a "Mailbag" segment where he answers questions that people send in.  He's offering a free digital copy of Like Glass to the person who sends in a question he considers the "Question of the Week", so check it out!
Page count: 210 | Approximate word count: 82,200
2007: Night Embrace (Sherrilyn Kenyon)
2006: The English Assassin (Daniel Silva)