2009: #77 – Killer Takes All (Erica Spindler)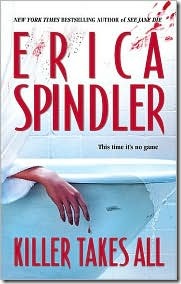 Book #77 was Killer Takes All by Erica Spindler.  The back of the book reads:
The White Rabbit beckons you to follow him, down the rabbit hole, into his world. He's a deceiver, a trickster. You won't know what is truth and what is a lie. He aims to best you. Beat you. And when he does, you die.

A friend's brutal murder turns former homicide detective Stacy Killian's life upside down. Unwilling to trust Spencer Malone, the overconfident New Orleans detective assigned to the case, Stacy is compelled to return to the investigative role she had fled.

The investigation leads Stacy and Spencer to White Rabbit, a cultish fantasy role-playing game. White Rabbit is dark, violent — and addictive. As the body count mounts, they find themselves trapped in a terrifying game that's more real than life and death. Because anyone can die before the final moment when White Rabbit is over . . . and the killer takes all.
A lot of Erica Spindler's books have recurring characters, so I had already met Stacy Killian and Spencer Malone in another (later) book (Last Known Victim), and knew where their relationship was going. But that knowledge didn't in any way take away from my enjoyment of this book.  I liked this one much more than I liked Last Known Victim, probably because I like Spencer and Stacy better as main characters. This was also an interesting mystery, with a lot of turns and red herrings everywhere. The attitudes and treatment of gaming seemed a little… antiquated… but I may be more progressive than some. Overall, it was an entertaining read.
Page count: 480 | Approximate word count: 120,000
2008: New Moon (Stephenie Meyer)
2007: Evil Under the Sun (Agatha Christie)
2006: Indigo Slam (Robert Crais)
Used in these Challenges: 100+ Reading Challenge 2009; 2nds Challenge; The 999 Challenge; Read Your Own Books Challenge;