2009: #76 – On Writing (Stephen King)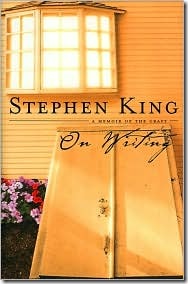 Book #76 was On Writing: A Memoir of the Craft by Stephen King. The back of the book reads:
"Long live the King" hailed Entertainment Weekly upon the publication of Stephen King's On Writing. Part memoir, part master class by one of the bestselling authors of all time, this superb volume is a revealing and practical view of the writer's craft, comprising the basic tools of the trade every writer must have. King's advice is grounded in his vivid memories from childhood through his emergence as a writer, from his struggling early career to his widely reported near-fatal accident in 1999 — and how the inextricable link between writing and living spurred his recovery. Brilliantly structured, friendly and inspiring, On Writing will empower and entertain everyone who reads it — fans, writers, and anyone who loves a great story well told.
Wow, was this great, and completely not what I was expecting.  About the first third of the book is dedicated to vignettes from King's life that speak to incidents that shaped him both as a person and as a writer.  It was in this part that I discovered that I wasn't the only kid who used to copy the text from comic books into story or script form. He also pulls no punches when it comes to talking about his alcoholism and addiction to drugs. The other two main parts of the book focus on the tools you should have when you write, and then the actual process of writing. This is all followed by a post-script detailing his car accident and recovery, which happened while he was in the middle of writing this book, and which is equally as fascinating as the discussion of writing.
The best thing about this book is that King doesn't portend to know it all.  In fact, the second foreword says:
"This is a short book because most books about writing are filled with bullshit. Fiction writers, present company included, don't understand very much about what they do – not why it works when it's good, not why it doesn't when it's bad.  I figured the shorter the book, the less the bullshit."
And what book blogger couldn't echo these word?
"Reading is the creative center of a writer's life.  I take a book with me everywhere I go, and find there are all sorts of opportunities to dip in. The trick is to teach yourself to read in small sips as well as in long swallows.  Waiting rooms were made for books – of course! But so are theater lobbies before the show, long and boring checkout lines, and everyone's favorite, the john.  You can even read while you're driving, thanks to the audiobook revolution."
Not only did I find inspiration here, I'm sure I picked up a few tips along the way.  And even more respect for Stephen King.
Page count: 288 | Approximate word count: 72,000
2008: The Dead Room (Heather Graham)
2007: Body Rides (Richard Laymon)
2006: Dragonfly in Amber (Diana Gabaldon)
2005: We Need To Talk About Kevin (Lionel Shriver)
Used in these Challenges: 100+ Reading Challenge 2009; A-Z Challenge 2009; Read Your Own Books Challenge;