2009: #81 – For the Love of Lilah (Nora Roberts)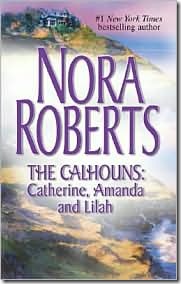 Book #81 was For the Love of Lilah, the third Calhoun Women book by Nora Roberts. The back of the book reads:
The four Calhoun sisters and a special sister-by-marriage are all united by a decades-old legend and the determination to save the Towers, their magnificent family mansion on the rocky coast of Maine. Sweet sister Lilah saved a mysterious stranger from drowning. Adrift in a storm, Max thought he had hallucinated the beautiful mermaid who came to his rescue. But Lilah was a woman of flesh and blood . . .
It's at this point in the series where the "Me Tarzan, you Jane", "Let the big strong men handle this, little lady" clichés get a little bit tired. And that behavior didn't really fit Max, the mild-mannered college professor.  It probably wouldn't have been so noticeable if I wasn't reading these one right after another. At any rate, it's still a solid romance built upon a complex Nora Roberts family. There's a little more danger in this one, and you can tell that things will soon be coming to a head.  Plus, there aren't many sisters left!
Page count: 251 | Approximate word count: 62,500
2008: Last Known Victim (Erica Spindler)
2007: A Place Called Freedom (Ken Follett)
2006: Drums of Autumn (Diana Gabaldon)
Used in these Challenges: 100+ Reading Challenge 2009; Read Your Own Books Challenge;