2009: #75 – Courting Catherine (Nora Roberts)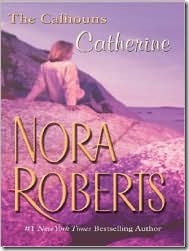 Book #75 was Courting Catherine, the first book in Nora Roberts' Calhoun Women series.  The back of the book reads:
"The Calhoun Women" is one of Silhouette's bestselling series of all time. Mechanic Catherine "C.C" and hotel magnate Trenton St. James mix like axle grease and mineral water–until they kiss.
This was one of NR's Harlequin Silhouette series, so it's pretty much straight romance.  There is a thread of a mystery which is carried through the entire series… What happened to make Bianca (their great-grandmother) kill herself, and where is her famous emerald necklace?… but really the focus of this novel is the relationship between C.C. and Trent. The one thing NR always does so well is create characters that feel so real, they could walk in your front door at any moment.  Here she hasn't created just one character, but an entire family where each person is different than the last.  The "four sisters who all have different colored hair and distinctly different personalities" thing is a little clichéd, but it doesn't take away from the grand romance.  I'm already into the third book in this series, and I don't expect to stop until I'm finished.
Page count: 192 | Approximate word count: 38,400
2008: A Paragon of Virtue (Christian von Ditfurth)
2007: The Life and Times of the Thunderbolt Kid (Bill Bryson)
2006: Cruel and Unusual (Patricia Cornwell)
2005: Under the Banner of Heaven (Jon Krakauer)
Used in these Challenges: 100+ Reading Challenge 2009; 1st in a Series Challenge; Read Your Own Books Challenge;