2009: #83 – Suzanna's Surrender (Nora Roberts)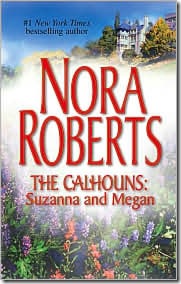 Book #83 was Suzanna's Surrender, the fourth book in Nora Roberts' Calhoun Women series.  The back of the book reads:
Burned-out and tired as hell, all ex-cop Holt Bradford wanted to do was relax. But when beautiful single mom Suzanna invaded his solitude to search for the missing Calhoun emeralds, he couldn't say no. Holt had changed from a bad-boy teen to a dangerously sexy man, but Suzanna couldn't risk her well-ordered life for a man who made her mouth go dry . . .
Will we finally get to the end of Bianca's story?  Will they ever find her emeralds? While I liked Suzanna's story, and her romance with a hometown boy, I wasn't a fan of the flashbacks in this one.  I already knew the story of Bianca and Christian from her side, I really didn't need it all rehashed from his side.  It didn't really add anything new to the saga. Good wrap-up to the mystery, though.
Page count: 248 | Approximate word count: 62,000
2008: The Curious Incident of the Dog in the Night-Time (Mark Haddon)
2007: The Legacy (Steven Frey)
2006: The Eighth Commandment (Lawrence Sanders)
Used in these Challenges: 100+ Reading Challenge 2009; Read Your Own Books Challenge;