2009: #67 – The Accidental Human (Dakota Cassidy)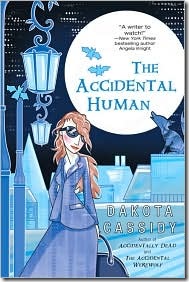 Book #67 was The Accidental Human, the third book in Dakota Cassidy's Accidental Friends series.  The back of the book reads:
Wanda Schwartz is raking in the dough selling Bobbie-Sue Cosmetics—and she's a pro at recruiting new saleswomen. So, she's shocked when a man comes to one of her in-home parties—a very hot man. Heath Jefferson is sure to put some extra spin into a lot of women's color wheels.

When Wanda is diagnosed with a terminal illness, it doesn't have to be a death sentence. With a werewolf and a vampire for best friends, she has options that most ordinary people wouldn't. As Wanda ponders what to do about her mortality, Heath reveals he has secrets, and one of them is that his former bloodlust has turned into an old-fashioned lust—for Wanda. And he's already given up too much to lose the love of his lifetimes.
I picked this up on a whim at the library, being in somewhat of a paranormal mood lately.  Unfortunately, I found it kinda of "meh".  I admittedly haven't read the first two books in the series, but I don't think they were necessary for this storyline.  I liked Wanda, and the story of Wanda and Heath, but Wanda's friends Nina and Marty just rubbed me wrong. They're kinda bullies… though that would apply more to Nina than Marty. And Wanda took *forever* to tell anyone about her illness, and I think it would have been more interesting to have more time spent with *everyone* dealing with what was going to happen, rather than Wanda just dealing with it herself.  So it was an okay read overall, but not good enough for me to seek out more of her work.
Page count: 352 | Approximate word count: 88,000
2008: Neon Rain (James Lee Burke)
2007: Portrait of a Killer (Patricia Cornwell)
2006: The Grim Grotto (Lemony Snicket)
2005: Hell at the Breech (Tom Franklin)
Used in these Challenges: 100+ Reading Challenge 2009; The 999 Challenge; Support Your Local Library Challenge 2009;