2009: #92 – The Big Steal (Emyl Jenkins)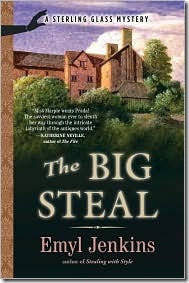 Book #92 was The Big Steal, the second of Emyl Jenkins' Sterling Glass mysteries.  The back of the book reads:
Hired to assess the value of broken and missing antiques following a suspicious burglary at a Virginia manor house, intrepid appraiser and amateur sleuth Sterling Glass finds that her job is more complicated than she'd anticipated. The antiques, she realizes, are not always what they seem: some are worth tens of thousands, others are well-done replicas.

Whether the well-traveled and well-heeled couple who once owned Wynderly could have been trafficking in fakes is what Sterling must unravel from the secret rooms, hidden treasures, uncovered diaries, and convoluted trail of paperwork and provenance. As our sharp-witted heroine sifts through details doled out by the museum's curators, board members, and the town's local residents, she discovers that objects, unlike people, do not lie.

The Big Steal is a delightful mystery that enhances readers' antiques acumen and provides an easy guide to identifying the most popular styles and periods in an illustrated appendix.
I haven't read the first Sterling Glass novel, but it wasn't necessary.  You miss a little of the background between Sterling and her two love interests, but it doesn't take much to catch on. She gets a lot more than she bargained for when she accepts a job appraising the value of some antiques following a robbery.  In fact, she does very little appraising, becoming more caught up in the politics of the foundation that owns the home and the intricacies of the unusual home itself. Sterling also writes a column where she answers questions about antiques, and there's a question and answer at the start of each column. I felt like I learned quite a bit about antiques just by reading those questions. 
The mystery itself is almost unnecessarily complex, and there's a twist of sort at the end that I didn't real understand the purpose of. Regardless, I liked the story, and I would definitely read the first book (and any subsequent). But I have to confess…. I found the name "Sterling Glass" way too kitschy.
Thanks to Algonquin Books for sending me this novel!
Page count: 335 | Approximate word count: 83,750
2008: Degree of Guilt (Richard North Patterson)
2007: When the Bough Breaks (Jonathan Kellerman)
2006: 4th of July (James Patterson)
Used in these Challenges: 100+ Reading Challenge 2009; 2009 ARC Reading Challenge; A-Z 2009 Challenge;