2009: #91 – Engleby (Sebastian Faulks)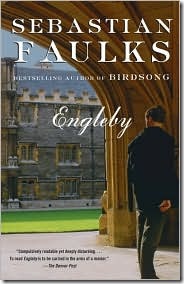 Book #91 was Engleby by Sebastian Faulks.  The back of the book reads:
Meet Mike Engleby, a second-year student at university. Despite the fact that Mike is obviously intelligent, and involved in many clubs, it is clear that something about Mike is not quite right. When he becomes fixated on a classmate named Jennifer Arkland, and she goes missing, we are left with the looming question: Is Mike Engleby involved?
Slight spoiler warning! This is one of those books that is difficult to discuss unless you give *some* indication of what's going on.
When you meet Engleby, it doesn't take long to realize that something is "off" about him.  To me, he appears more "Asperger's Syndrome" (especially because of his memorization skills) than "sociopath", but since you never get a definitive answer to the question, I suppose it could be either/or/both/somethingelse. And since Engleby is your narrator, you also aren't sure what you should or shouldn't believe. What isn't said is sometimes more important than what is.
This was a decent read if you're willing to make the investment.  Sometimes Engleby's train of thought is a little random, and I have to admit I found myself skimming several parts.  And while I liked seeing the professionals' assessments of Engleby (especially when followed up by his own narcissistic reactions to them), I could have done without "the journal of Engleby after 18 years of treatment". I think I would have rather left that to my imagination, though a sardonic wink to the reader at the end would have made it all worth it.
Page count: 336 | Approximate word count: 134,400
2008: Dark of the Moon (P.J. Parrish)
2007: Black Creek Crossing (John Saul)
2006: Year Zero (Jeff Long)
Used in these Challenges: 100+ Reading Challenge 2009; The 999 Challenge; A-Z 2009 Challenge; Support Your Local Library Challenge 2009;