2009: Challenges – Countdown Challenge 2009 Wrap-Up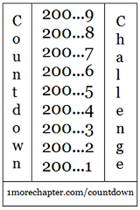 Oh so close!
I probably would have completed this challenge if I had paid a little more attention to the date.  I was only missing one book, from that wily year 2006.  Here's my final list:
(btw, I take my publication years from the Fantastic Fiction website)
2009
Eclipse (Richard North Patterson)
Plum Spooky (Janet Evanovich)
The Lost Hours (Karen White)
First Family (David Baldacci)
Darling Jim (Christian Moerk)
Mating Rituals of the North American WASP (Lauren Lipton)
Dark Places – Gillian Flynn
Reunion – Therese Fowler
April & Oliver – Tess Callahan
2008
2007
2006
2005
2004
2003
Dance with the Devil (Sherrilyn Kenyon)
The Curious Incident of the Dog in the Night-Time (Mark Haddon)
Before I Wake (Dee Henderson)
2002
Undead and Unwed (MaryJanice Davidson)
China Lake (Meg Gardiner)
2001
Skipping Christmas (John Grisham)
But I'll be trying again! I liked this challenge, and will be signing up for the Countdown Challenge 2010 presently.