2009: Challenges – Spring Reading Thing 2009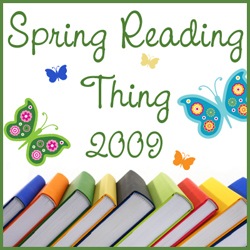 It's that time again! The Spring Reading Thing 2009 kicks off on March 20. Challenges where I need to make up a list beforehand are harder for me to complete, so I'm thinking small… 12 books.  This leaves me enough wiggle room for those whims that I feel I must satisfy. These books are a combination of review books, stuff that's been on my shelf for a while, and book club reads.
last updated: 5/14/09
The Kiss Murder – Mehmet Murat Somer
Mixed Blood – Roger Smith
Drood – Dan Simmons
Whiskey Sour – J.A. Konrath
The Uncommon Reader – Alan Bennett
The Love Wife – Gish Jen
Jacob – Jacquelyn Frank
Baltimore Blues – Laura Lippman
The Masque of the Black Tulip – Lauren Willig
Dead Girls Are Easy – Terri Garey
First Family – David Baldacci
Laura Rider's Masterpiece – Jane Hamilton Darling Jim – Christian Moerk
And, just for fun… the covers!