2009: #29 – Can You Keep a Secret? (Sophie Kinsella)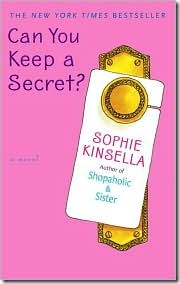 Book #29 was Can You Keep a Secret? by Sophie Kinsella.  The back of the book reads:
Meet Emma Corrigan, a young woman with a huge heart, an irrepressible spirit, and a few little secrets: Secrets from her boyfriend: I've always thought Connor looks a bit like Ken. As in Barbie and Ken. Secrets from her mother: I lost my virginity in the spare bedroom with Danny Nussbaum while Mum and Dad were downstairs watching Ben-Hur. Secrets she wouldn't share with anyone in the world: I have no idea what NATO stands for. Or even what it is. Until she spills them all to a handsome stranger on a plane. At least, she thought he was a stranger. …Until Emma comes face-to-face with Jack Harper, the company's elusive CEO, a man who knows every single humiliating detail about her…
I thought this was quite cute, and it was perfect rainy weekend reading.  Once I got past Emma's extremely flighty inner dialogue, I found that I couldn't put it down! Don't look for any depth here, but there's a lot of fun and a little bit of romance. I'd probably pick up some of Kinsella's other standalone novels, but don't look for any reviews of the Shopaholic books here… That whole concept doesn't sit well with me.
Page count: 400 | Approximate word count: 100,000
2008: The Friday Night Knitting Club (Kate Jacobs)
2007: From Potter's Field (Patricia Cornwell)
2006: Divided in Death (J.D. Robb)
2005: Abandoned Prayers (Gregg Olsen)
Used in these Challenges: 9 for 09 Challenge; 100+ Reading Challenge 2009; The 999 Challenge; Read Your Own Books Challenge;