2009: #Readathon – Hours 7 & 8
Title of book(s) read since last update:
Bird by Bird by Anne Lamott (10 pgs – on 64/237)
The Ultimate Weight Loss Solution by Dr. Phil (3 pgs – on 75/282)
The Maze Runner by James Dashner (48 pgs – on 48/374)
Number of books finished since started: 1
Pages read since last update: 61
Running total of pages read since started: 307 + 30 minutes audio 
Amount of time spent reading since last update: 1 hr
Running total of time spent reading since started: 4hrs 25min
Mini-challenges completed: Where in the World is the Read-a-Thon?
Lunch and my 7am rise from bed caught up to me in the 2:00 hour… I had to take a break for a snooze. With a companion.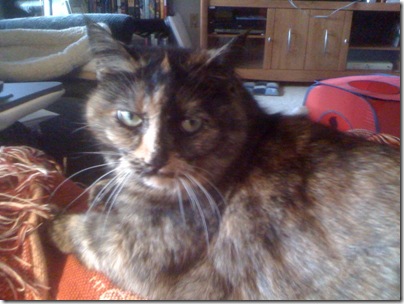 Feeling refreshed now.  And starting to get into The Maze Runner. So many unknowns!
I suspect that I'll have to be running back to Blacksburg to pick up Scott in the next hour or so.