2010: #103 – Charley's Web (Joy Fielding)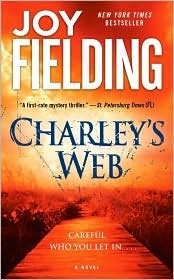 Book #103 was Charley's Web by Joy Fielding.  The back of the book reads:
Charley Webb is a beautiful single mother who writes a successful and controversial column for the Palm Beach Post. She's spent years building an emotional wall against scathing critics, snooty neighbors, and her disapproving family. But when she receives a letter from Jill Rohmer, a young woman serving time on death row for the murders of three small children, her boundaries slowly begin to fade. Jill wants Charley to write her biography so that she can share the many hidden truths about the case that failed to surface during her trial. Seeing this as a once-in-a-lifetime opportunity, Charley begins her journey into the mind of this deeply troubled woman.

Her path takes a twisted turn, however, when the anonymous letters she's recently received from an angry reader evolve into threats, targeting her son and daughter. As Charley races against time to save her family, she begins to understand the value of her seemingly intrusive neighbors, friends, and relatives. As she discovers, this network of flawed but loving people might just be her only hope of getting out alive.

Filled with complex characters and a plot rich with intrigue, Charley's Web is Joy Fielding at her heart-skipping, mesmerizing best.
I thought this was a good read. Charley is very independent, and uses her independence to build up a wall that protects her from getting emotionally involved with other people, whether they be her neighbors, the mother who was gone for most of her life, her sisters, or even the fathers of her children. When she begins to dig into Jill Rohmer's damaged world, cracks appear in her own wall. Despite the tweeness of the title of her newspaper column ("Webb Site", which the author tries painfully hard to make us believe is clever), I also enjoyed that side of Charley.  Actually, I kinda wish she had spent more time in the office and less time driving around.
The plot builds well, and there are enough possible outcomes that when the twist occurs, you are surprised but find it believable. And then the second twist hits you and blows all of that out of the water.  It's hard to surprise me, but Fielding did it well.  Charley's Web is a little bit mystery, a little bit suspense, and a little bit family drama, and it all works quite well.
Other reviews:
Charley's Web by Joy Fielding – book review » Curious Book Fans
A Bookworm's World: Charly's Web – Joy Fielding
Page count: 608 | Approximate word count: 152,000
2009: Silence of the Grave (Arnaldur Indridason)
2008: The Quickie (James Patterson)
2007: Callander Square (Anne Perry)
2006: Velocity (Dean Koontz)
Used in these Challenges: 2010 100+ Reading Challenge; Pages Read Challenge Season 2; Countdown Challenge 2011;