2010: #104 – At Home (Bill Bryson)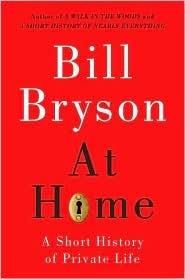 Book #104 was At Home: A Short History of Private Life by Bill Bryson.  The back of the book reads:
"Houses aren't refuges from history. They are where history ends up."

Bill Bryson and his family live in a Victorian parsonage in a part of England where nothing of any great significance has happened since the Romans decamped. Yet one day, he began to consider how very little he knew about the ordinary things of life as he found it in that comfortable home. To remedy this, he formed the idea of journeying about his house from room to room to "write a history of the world without leaving home." The bathroom provides the occasion for a history of hygiene; the bedroom, sex, death, and sleep; the kitchen, nutrition and the spice trade; and so on, as Bryson shows how each has fig­ured in the evolution of private life. Whatever happens in the world, he demonstrates, ends up in our house, in the paint and the pipes and the pillows and every item of furniture.

Bill Bryson has one of the liveliest, most inquisitive minds on the planet, and he is a master at turning the seemingly isolated or mundane fact into an occasion for the most diverting exposi­tion imaginable. His wit and sheer prose fluency make At Home one of the most entertaining books ever written about private life.
This is one of those books that fills all the empty spaces in my brain that used to hold phone numbers. Some parts are more dry than others, but I learned a lot of things.  I think there's a little bit of something here for everyone.  If furniture and clothing aren't your thing, maybe architecture and gardens are. Did you know that the color of your wallpaper used to be a sign of how well-off you were?  And that some of those colors could then make you sick? Or why Chippendale furniture is so special? Or why brick has gone in and out of fashion as a building material? And why do we eat the meals we do at the time of day we eat them? Maybe I'm a nerd, but I find a lot of this stuff is really interesting. This isn't as humorous as some of Bryson's other books, but you still know it's him.
Other reviews:
A Bookworm's World: At Home – Bill Bryson – Review and Giveaway
BookSpin: Guest Review – At Home by Bill Bryson reviewed by KC Martin
Bill Bryson – At Home « Fyrefly's Book Blog
Review: At Home: A Short History of Private Life by Bill Bryson
Audiobook length: 16 hrs 38 min | Approximate word count: 153,600
2009: Hunter's Moon (C.T. Adams & Cathy Clamp)
2008: Skipping Christmas (John Grisham)
2007: Crocodile on the Sandbank (Elizabeth Peters)
2006: A Stroke of Midnight (Laurell K. Hamilton)
Used in these Challenges: 2010 100+ Reading Challenge; Audiobook Challenge; Countdown Challenge 2011;