2010: #6 – Little Children (Tom Perrotta)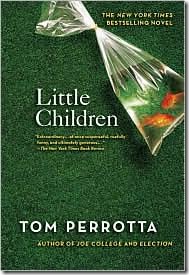 Book #6 was Little Children by Tom Perrotta.  The back of the book reads:
TOM PERROTTA's thirtyish parents of young children are a varied and surprising bunch.  There's Todd, the handsome stay-at-home dad, dubbed "The Prom King" by the moms at the playground, and his wife, Kathy, a documentary filmmaker envious of the connection Todd has forged with their toddler son.  And there's Sarah, a lapsed feminist surprised to find she's become a typical wife in a traditional marriage, and her husband, Richard, who is becoming more and more involved with an internet fantasy life than with his own wife and child.
This is one of those books where not a whole lot *happens*.  You just sort of meander through the summer with Todd and Sarah as their relationship grows and other facets of their lives fall to the wayside. In the backdrop you have the saga of Ronald McGorvey and Larry Moon, a pedophile and the ex-cop who wants to drive him out of town. Mostly this book is about Todd and Sarah and their quest to figure out what they really want in life.  The ending wasn't really what I expected, and it's a little surprising which of the two actually figures it out first.  The title of this book is interesting, since the people who act most childlike are the adults — it seems that everyone is primarily concerned with instant gratification, not long-term consequences. I read this for my book group, and it was a much quicker read than I expected.  I enjoyed it, and I'm curious to see how the other people in my book club approach it.  Between the adultery, sexual fetishes, and somewhat misplaced feminism, I'm expecting it to be a lively discussion.
Other reviews:
Lotus Reads: "Little Children" by Tom Perrotta
[62] Little Children – Tom Perrotta « A Guy's Moleskine Notebook
Page count: 355 | Word count: 97,342
2009: Summer (Edith Wharton)
2008: Dead Witch Walking (Kim Harrison)
2007: Between Friends (Debbie Macomber)
2006: The Rule of Four (Ian Caldwell and Dustin Thomason)
2005: D is for Deadbeat (Sue Grafton)
Used in these Challenges: Countdown Challenge 2010; 2010 100+ Reading Challenge; Reading From My Shelves Project; Pages Read Challenge Season 2; TwentyTen Challenge;