2010: Friday Finds – Spring New Releases (Part III)
Here is Part III of my Spring Friday Finds! (see here for Part I) (see here for Part II)
Some of these books don't have full synopses out and about yet, so I'm posting the covers for those at the end.
April (cont.)
A River in the Sky by Elizabeth Peters
Archaeologist-sleuth Amelia Peabody leaves her beloved Egypt and travels to Palestine for the 19th installment of the series.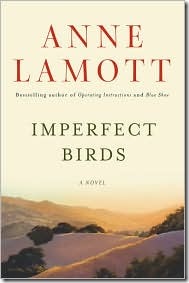 Imperfect Birds by Anne Lamott
Rosie Ferguson is seventeen and ready to enjoy the summer before her senior year of high school. She's intelligent-she aced AP physics; athletic-a former state-ranked tennis doubles champion; and beautiful. She is, in short, everything her mother, Elizabeth, hoped she could be. The family's move to Landsdale, with stepfather James in tow, hadn't been as bumpy as Elizabeth feared.
But as the school year draws to a close, there are disturbing signs that the life Rosie claims to be leading is a sham, and that Elizabeth's hopes for her daughter to remain immune from the pull of the darker impulses of drugs and alcohol are dashed. Slowly and against their will, Elizabeth and James are forced to confront the fact that Rosie has been lying to them-and that her deceptions will have profound consequences.
This is Anne Lamott's most honest and heartrending novel yet, exploring our human quest for connection and salvation as it reveals the traps that can befall all of us.
In the Shadow of the Cypress by Thomas Steinbeck
John Steinbeck's son weaves a tale of Chinese immigrants in California at the turn of the 20th century.
When Hannah Legare was 11, her father went on a fishing trip in the Charleston harbor and never came back. And while most of the town and her family accepted Buzz's disappearance, Hannah remained steadfastly convinced of his imminent return.
Twenty years later Hannah's new life in San Francisco is unraveling. Her marriage is on the rocks, her business is bankrupt. After a disastrous attempt to win back her husband, she ends up back at her mother's home to "rest up", where she is once again sucked into the mystery of her missing father. Suspecting that those closest are keeping secrets–including Palmer, her emotionally closed, well-mannered brother and Warren, the beautiful boyfriend she left behind–Hannah sets out on an uproarious, dangerous quest that will test the whole family's concepts of loyalty and faith.
Deliver Us From Evil by David Baldacci
(no cover available)
In South America a wealthy ninety-six year old man reads a book late into the night. Within an hour, he is dead, the secrets of his past starkly revealed. Six months later, in Provence, Shaw – the shadowy operative from The Whole Truth – witnesses the murder of a mysterious man, his body left lifeless at the bottom of a pool. Shaw barely escapes the incident himself; and with a new partner in tow, begins to realise that there has to be another organization at work that rivals his own in secrecy …Meanwhile, half a world away, journalist Katie James is working on a story of international importance. But shortly after meeting with a potential inside source she is smuggled unconscious onto an aeroplane, headed to an undisclosed destination. In the days to come, Katie and Shaw will be reunited in a deadly dual of nerve and wits against a surprising, secretive enemy and lead around the world at a breakneck pace. Filled with the breathtaking plot turns and remarkable characters that only David Baldacci can deliver, this is the most explosive thriller of the year.
So what books are you excited about this spring?