2010: #66 – Standoff (Sandra Brown)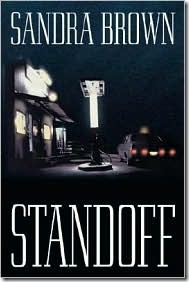 Book #66 was Standoff by Sandra Brown.  The back of the book reads:
Ambitious TV reporter Tiel McCoy is driving through New Mexico when she hears over the radio that Sabra Dendy, the 17 year-old daughter of Fort Worth multimillionaire Russell Dendy, has been kidnapped.  Tiel calls her editor and learns that Sara was "kidnapped" by her boyfriend Ronnie and is pregnant.  Tiel is at a gas station store when an armed couple robs the cashier and orders all the customers to the floor.  The girl goes into labor and Tiel realizes that she has a huge story on her hands.

A tense standoff begins as the FBI and Russell Dendy wait outside.  Tiel learns that Sabra and Ronnie are more afraid of her father-who plans to put the baby up for adoption-than of the FBI and would rather die together than surrender and be kept apart.  Now it is more than just a story to Tiel as she fights to prevent these two kids from becoming a tragedy.
This was more a novella than a usual Sandra Brown novel, and as such, was pretty blah.  The story never fully develops beyond the actual standoff situation, and we're never given a chance to really connect with our main characters.  Brown also uses a main character combo (a successful tv reporter and the man she has mistakenly wronged) that she returns to in a later novel, Smoke Screen. We get the obligatory sexual tension between Tiel and Doc, followed by the obligatory sex scene, but it all feels very… obligatory. Step 1: Woman finds herself in life-threatening situation with mysterious, handsome man. Step 2: Woman and Man band together to escape situation and bring it to a happy ending. Step 3: Woman and Man have life-affirming sex to cope with traumatic situation. This could have been great if it had been written with the complexity you usually find in a Brown novel.  Instead, it just left me wanting more.
Page count: 261 | Word count: 55,535
2009: I Smile Back (Amy Koppelman)
2008: Homeport (Nora Roberts)
2007: The Double Bind (Chris Bohjalian)
2006: Plain Truth (Jodi Picoult)
2005: Bridge of Birds (Barry Hughart)
Used in these Challenges: The Four Month Challenge – Part 4; 2010 100+ Reading Challenge; Pages Read Challenge Season 2;