2010: #67 – The Anniversary Man (R.J. Ellory)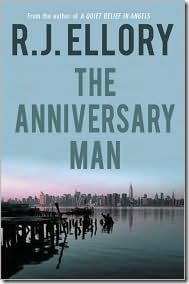 Book #67 was The Anniversary Man by R.J. Ellory.  The back of the book reads:
Twenty years ago, John Costello's life as he knew it ended. He and his beautiful girlfriend, Nadia, became victims of the deranged "Hammer of God" killer who terrorized Jersey City throughout the summer of 1984. This murderer went after young courting couples in an attempt to "save their souls." Nadia was killed by the first blow of the hammer. John survived, but was physically and psychologically scarred to an extent that few people could comprehend. He withdrew from society, hid in his apartment, and now only emerges to work as a crime researcher for a major newspaper.

Damaged as he may be, no one in New Jersey knows more about serial killers than John Costello. So, when a new spate of murders starts-all seemingly random and unrelated-John is the only one who can discern the complex pattern that lies behind them. But could this dark knowledge threaten his own life?
For a long time John Costello tried to forget what happened.
Perhaps pretended that it had not.
The devil came in the form of a man, around him the smell of dogs.

I didn't find this to be as lyrically beautiful as A Quiet Belief in Angels was, but it was still quite good.  Ellory doesn't write crime novels like you expect them to be written.  The book is really more about the people involved than it is about the crime.  In this case, you have a triumverate of main characters: Detective Ray Irving, journalist Karen Langley, and John Costello, a researcher who works for Karen who also happens to be the survivor of a serial killer.
John has spent his adult life reading about and researching serial crimes, so when there's a series of seemingly unrelated murders in NYC that happen to mimic earlier serial murders, he is the only one who recognizes what is going on.  It's brought to Ray's attention via an article that Karen plans to publish, and Ray slowly comes to realize that he can't solve this crime without their help.
With the exception of John, whom Ray refers to as "the fucking Rainman" at one point, our main characters are refreshingly normal. Ray is a bit lonely (his girlfriend suddenly passed away a few months before), but he doesn't have any of the gigantic flaws you would expect from our down and out detective.  The one thing about the novel that did bug me was that every time Ray thinks of his deceased girlfriend, she is referred to by her full name: Deborah Wiltshire.  We only need her last name once.  It's not like there was another Deborah in the book.
I think Ellory does a great job of capturing the feel of New York.  I'm always impressed when a foreign author is is able to portray the U.S. so well.  I think it shows their dedication to the story they write. I was a little surprised by the ending of the book, but it wasn't completely unexpected. And I thought it was fitting.
Overall, this was a book I really enjoyed.  Ellory is a master of the character-driven crime novel.
This book was a review copy.
Page count: 400 | Approximate word count: 120,000
2009: The Accidental Human (Dakota Cassidy)
2008: Neon Rain (James Lee Burke)
2007: Portrait of a Killer (Patricia Cornwell)
2006: The Grim Grotto (Lemony Snicket)
2005: Hell at the Breech (Tom Franklin)
Used in these Challenges: Countdown Challenge 2010; The Four Month Challenge – Part 4; ARC Reading Challenge 2010; 2010 100+ Reading Challenge; 2010 Pub Challenge; 2nd Reading Challenge; Pages Read Challenge Season 2;