2010: #68 – Flirt (Laurell K. Hamilton)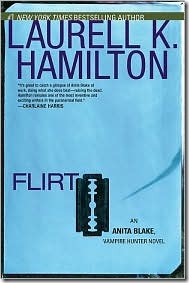 Book #68 was Flirt, the 18th book in Laurell K. Hamilton's Anita Blake series.  The back of the book reads:
When Anita Blake meets with prospective client Tony Bennington, who is desperate to have her reanimate his recently deceased wife, she is full of sympathy for his loss. Anita knows something about love, and she knows everything there is to know about loss. But what she also knows, though Tony Bennington seems unwilling to be convinced, is that the thing she can do as a necromancer isn't the miracle he thinks he needs. The creature that Anita could coerce to step out of the late Mrs. Bennington's grave would not be the lovely Mrs. Bennington. Not really. And not for long.
This novella was just okay for what it was meant to be — a short exploration of flirtation, a return to Anita's day job, and a way to give Anita one more animal to call.  Unfortunately, the flirtation stuff was a little overdone.  In a scant 156 pages of story, the word flirt is used 31 times, and the word flirting 21 times. Too. Much. I wanted to mail her a thesaurus. There's also a lot of the usual Anita self-reflection, analysis, and denial, all of it telling us nothing new about her character or her situation. If you're stubborn like me (yes, I finally admit it) and intend to follow this series to the end no matter what, then give this a read.  Or email me and I'll share the salient points. If you're ready to put the Anita Blake series to bed, this book isn't going to change your mind.
Other reviews:
Graeme's Fantasy Book Review: 'Flirt' – Laurell K. Hamilton (Headline)
Flirt by Laurell K. Hamilton | Reading with Tequila
[REVIEW] Flirt – Laurell K. Hamilton « Tez Says
The Good, The Bad and The Unread » REVIEW: Flirt by Laurell K Hamilton
Page count: 192 | Approximate word count: 28,800
2009: Skin Trade (Laurell K. Hamilton)
2008: Dead Witness (Joylene Nowell Butler)
2007: Plum Island (Nelson DeMille)
2006: Letters From An Age of Reason (Nora Hague)
2005: Therapy (Jonathan Kellerman)
Used in these Challenges: 2010 100+ Reading Challenge; Pages Read Challenge Season 2;