2010: #72 – Tell Me Lies (Jennifer Crusie)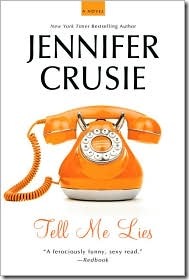 Book #72 was Tell Me Lies by Jennifer Crusie.  The back of the book reads:
If you think small-town life can be boring–think again. There are complex social rules: there are certain people with whom you fraternize and those you don't, and, of course, there is the all-powerful gossip. Everyone knows everything about everyone else. Don't they? That's what Maddie Farraday thinks until she finds a pair of black crotchless panties in her husband's car that don't belong to her. That's it; Maddie's had it. She's ready for change, and the first thing she's going to do is divorce her no-good, philandering husband Brent. But then everything goes haywire: Brent turns up dead, Maddie's daughter wants a dog, her best friend is suddenly acting very strange, and Maddie's secret boyhood crush, bad boy C. L. Sturgis, arrives in town after a 20-year hiatus–and he's as sexy as ever. You may laugh out loud at the wild and crazy antics in Jennifer Crusie's exceptional novel, but you'll exclaim with delight over the sizzling, dynamic, passionate affair between Maddie and her first love, C. L.
This was my first Jennifer Crusie read, and I was pleased with it for the most part.  Maddie is a pretty average mom and wife, living in a small town where not only does everyone know your business, but they'll tell your mother too.  Having grown up in a town of 1200 people (in a good year), I can relate.  Maddie was a little flightly and irrational (throwing away the evidence of your husband's infidelity? leaving suspiciously found cash where it can be found?), but likable enough. I also liked C.L. as the reformed, torch-carrying bad boy.  I was a little iffy on her daughter, Emily, and questioned whether the scenes from her point of view were really necessary or just there to force us into some emotional connection with her.
Some readers have mentioned that the police investigation(s) in this book don't make a whole lot of sense, but I am 100% capable of suspending disbelief in a story like this — it's not meant to be a police procedural. The one part of the book that really bothered me was her husband's death. His murder is announced on the back of the book, but you are 60% of the way through the book (literally!) before he actually kicks it.  This meant I spent several chapters asking, "Is he dead yet?" "Maybe he's dead now?" only to have him show up in the next scene.  I would have preferred to have that little tidbit held back, thank you very much.
Despite that, I enjoyed the story enough to read more of Crusie's work.
Other reviews:
Tell Me Lies by Jennifer Crusie – Smart Bitches, Trashy Books
Page count: 384 | Approximate word count: 96,000
2009: Finger Lickin' Fifteen (Janet Evanovich)
2008: The Finishing School (Michele Martinez)
2007: Lean Mean Thirteen (Janet Evanovich)
2006: The Sky is Falling (Sidney Sheldon)
2005: Jacob's Ladder (Donald McCaig)
Used in these Challenges: Four Month Challenge – Part 4; 2010 100+ Reading Challenge; New Author Challenge 2010; Pages Read Challenge Season 2;