2010: #71 – The Black Ice (Michael Connelly)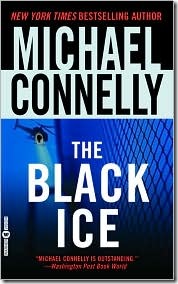 Book #72 was The Black Ice, the second book in Michael Connelly's Harry Bosch series.  The back of the book reads:
Narcotics officer Cal Moore's orders were to look into the city's latest drug killing. Instead, he ends up in a motel room with a fatal bullet wound to the head and a suicide note stuffed in his back pocket. Working the case, LAPD detective Harry Bosch is reminded of the primal police rule he learned long ago: Don't look for the facts, but the glue that holds them together. Soon Harry's making some very dangerous connections, starting with a dead cop and leading to a bloody string of murders that wind from Hollywood Boulevard to the back alleys south of the border. Now this battle-scarred veteran will find himself in the center of a complex and deadly game-one in which he may be the next and likeliest victim.
If you like straight-forward police procedurals with no quirks, Michael Connelly is the man for you.  Bosch may have a bit of an independent streak and a penchant for lonely, sad women, but he's surprisingly normal. When a fellow officer is found dead in a motel room, and Bosch doesn't get the call, he knows something is hinky.  He eventually finds himself embroiled in drugs, murder, and family matters — on both sides of the border. This series reflects the best of Michael Connelly.
Other reviews:
Ace and Hoser Blook: The Black Ice by Michael Connelly
Page count: 448 | Word count: 111,581
2009: Do Not Deny Me (Jean Thompson)
2008: Hold Tight (Harlan Coben)
2007: Mr. Perfect (Linda Howard)
2006: Just One Look (Harlan Coben)
2005: Secret Prey (John Sandford)
Used in these Challenges: Four Month Challenge – Part 4; 2010 100+ Reading Challenge; 2nd Reading Challenge; E-book Reading Challenge; Pages Read Challenge Season 2; Thriller & Suspense Reading Challenge 2010;