2010: #73 – Metro Girl (Janet Evanovich)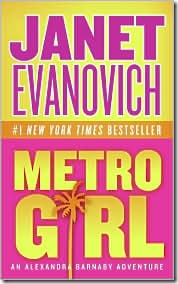 Book #73 was Metro Girl, the first book in Janet Evanovich's Alexandra Barnaby series.  The back of the book reads:
Alexandra (Barney) Barnaby roars onto the Miami Beach scene in hot pursuit of her missing baby brother, "Wild" Bill. Leave it to the maverick of the family to get Barney involved with high-speed car chases, a search for sunken treasure, and Sam Hooker, a NASCAR driver who's good at revving a woman's engine.

Engaged in a deadly race, Bill has "borrowed" Hooker's sixty-five-foot Hatteras and sailed off into the sunset…just when Hooker has plans for the boat. Hooker figures he'll attach himself to Barney and maybe run into scumbag Bill. And better yet, maybe he'll get lucky in love with Bill's sweetie pie sister.

The pedal will have to go to metal if Barney and Hooker want to be the first to cross the finish line, save Bill, Hooker's boat…and maybe the world.
This was sort of "Stephanie Plum-lite", right down to the tomboyish main character (Barney), obviously forward love interest ("Nascar Guy" Sam), and crazy sidekicks (gay best friend and Cuban cigar rollers). And I think that's why I didn't love it. While you expect a certain voice and style in a Janet Evanovich book, this was a little too copycat for my tastes. Though I confess that I did like Sam, who was what you would get if Ranger and Morelli had a baby. I'll probably read the second one if I feel like something light I can read in a day, but it won't be something I'll rush to get to.
Page count: 384 | Approximate word count: 96,000
2009: Naamah's Kiss (Jacqueline Carey)
2008: Undead and Unwed (MaryJanice Davidson)
2007: Something From the Nightside (Simon R. Green)
2006: The Penultimate Peril (Lemony Snicket)
2005: Cause of Death (Patricia Cornwell)
Used in these Challenges: 2010 100+ Reading Challenge; 2010 Reading From My Shelves Project; 1st in a Series Challenge; Pages Read Challenge Season 2;