2010: #74 – Smoke Screen (Sandra Brown)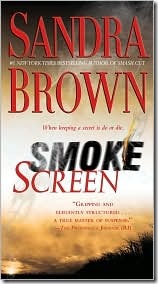 Book #74 was Smoke Screen by Sandra Brown. The back of the book reads:
When newswoman Britt Shelley wakes up to find herself in bed with Jay Burgess, a rising star detective in the Charleston PD, she remembers nothing of how she got there…or of how Jay wound up dead.

Handsome and hard-partying, Jay was a hero of the disastrous fire that five years earlier had destroyed Charleston's police headquarters. The blaze left seven people dead, but the death toll would have been much higher if not for the bravery of Jay and three other city officials who risked their lives to lead others to safety.

Firefighter Raley Gannon, Jay's lifelong friend, was off-duty that day. Though he might not have been a front-line hero, he was assigned to lead the investigation into the cause of the fire. It was an investigation he never got to complete. Because on one calamitous night, Raley's world was shattered.

Scandalized, wronged by the people he trusted most, Raley was forced to surrender the woman he loved and the work to which he'd dedicated his life. For five years his resentment against the men who exploited their hero status to further their careers — and ruin his — had festered, but he was helpless to set things right.

That changes when he learns of Jay Burgess's shocking death and Britt Shelley's claim that she has no memory of her night with him. As the investigation into Jay's death intensifies, and suspicion against Britt Shelley mounts, Raley realizes that the newswoman, Jay's last sexual conquest, might be his only chance to get personal vindication — and justice for the seven victims of the police station fire.

But there are powerful men who don't want to address unanswered questions about the fire and who will go to any lengths to protect their reputations. As Raley and Britt discover more about what happened that fateful day, the more perilous their situation becomes, until they're not only chasing after the truth but running for their lives.

Friends are exposed as foes, heroes take on the taint of criminals, and no one can be trusted completely. A tale about audacious corruption — and those with the courage to expose it — Smoke Screen is Sandra Brown's most searing and intense novel yet.
Another pretty good one from Sandra Brown, though I made the mistake of reading this too closely to the poorly done Standoff, which also featured a reporter and the man she (inadvertently?) harmed. There's generally not a lot to be surprised about in these sorts of books — you know the male and female leads (Raley and Britt, in this case) are going to eventually join together both for their crusade and for their libidos — but I still enjoy the journey we're taken on.  Though I had some suspicions about what was really going on, I was still surprised by what exactly happened and who exactly was in charge. There was just one detail that bugged me. At one point, Britt decides to waylay the men who are chasing them by removing the valve covers from their tires, which then go flat as soon as the men try to go anywhere.  Maybe tires were made differently (ahem) two (ahem) years ago, but I recently (inadvertently) drove for a few months with no valve cover on one of my tires, and it did not go flat. That seems like one of those details that a veteran writer and her editor should have picked up on.  Sloppy!
Other reviews:
LORI'S READING CORNER: Smoke Screen
Audiobook length: 14 hrs 16 min | Approximate word count: 140,000
2009: Fluke (Christopher Moore)
2008: The Face of a Stranger (Anne Perry)
2007: Love and War (John Jakes)
2006: Outlander (Diana Gabaldon)
2005: Hornet Flight (Ken Follett)
Used in these Challenges: Countdown Challenge 2010; 2010 100+ Reading Challenge; Audiobook Challenge;