2010: #82 – Time Was (Nora Roberts)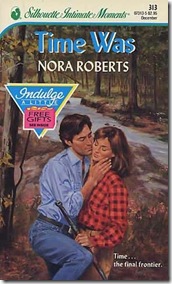 Book #82 was Time Was by Nora Roberts.  The back of the book reads:
Stranded in the present, time traveler Caleb Hornblower's biggest problem wasn't returning to the twenty-third century — it was falling in love with the beguiling Liberty Stone, who showed him a love more powerful than time itself. Though he belonged in the future, how could he leave the past — and Liberty — behind?
I couldn't resist finding the original cover for this.  It's so quintessential Harlequin! Much like the story.  Nothing special here, just a quick-read romance with a little time-travel to spice things up. Enjoyable, none-the-less. 
Other reviews:
Kay's Bookshelf » Time and Again / Nora Roberts
Page count: 250 | Approximate word count: 62,500
2009: A Pen Warmed Up In Hell (Mark Twain)
2008: Matrimony (Joshua Henkin)
2007: Split Second (Alex Kava)
2006: Ruby (V.C. Andrews)
Used in these Challenges: 2010 100+ Reading Challenge; Contemporary Romance Reading Challenge; Pages Read Challenge Season 2;