2011: #68 – Thanksgiving (Janet Evanovich)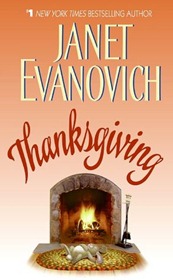 Book #68 was Thanksgiving (paperback, kindle, audio) by Janet Evanovich. The back of the book reads:
When Megan Murphy discovered a floppy-eared rabbit gnawing on the hem of her skirt, she meant to give its careless owner a piece of her mind, but Dr. Patrick Hunter was too attractive to stay mad at for long. Soon the two are making Thanksgiving dinner for their families.
I seem to be into theme reading this year, since I picked this up shortly before Thanksgiving. It is your typical Evanovich screwball romance, so it's hard to find anything wrong with it. Both the male and female lead are more cute than sexy, making them perfectly suited for each other. This is not quite as hot as some of Evanovich's romances, but there's still a little bit of steam. And Megan goes a little bit nutsy at one point, but it all works out okay in the end. This is good quick read for a cold night when you want to feel like you've accomplished something.
Other reviews:
Long and Short Romance Reviews: Review: Thanksgiving
not enough books: Thanksgiving by Janet Evanovich
Page count: 256 ('11 total: 18,899) | Approximate word count: 64,000 ('11 total: 6,750,307)
2010: Flirt (Laurell K. Hamilton)
2009: Skin Trade (Laurell K. Hamilton)
2008: Dead Witness (Joylene Nowell Butler)
2007: Plum Island (Nelson DeMille)
2006: Letters From An Age of Reason (Nora Hague)
2005: Therapy (Jonathan Kellerman)