2010: #95 – Abandon (Carla Neggers)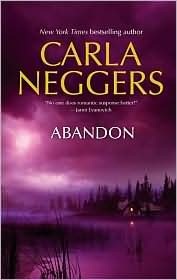 Book #95 was Abandon by Carla Neggers.  The back of the book reads:
A missing federal judge. A fugitive on the loose. And a deputy marshal who's already broken her own rules.

On what is supposed to be a quiet long weekend in New Hampshire, Deputy U.S. Marshal Mackenzie Stewart is viciously attacked at the lakefront cottage of her friend, federal judge Bernadette Peacham. Mac fends off her attacker, but he manages to escape. Everything suggests he's a deranged drifter — until FBI special agent Andrew Rook arrives.

With Rook, Mac broke her own rule not to get involved with anyone in law enforcement, but she knows he isn't up from Washington, D.C., to set things straight between them. He's on a case.

As the hunt for the mysterious attacker continues, the case takes an unexpected turn when Mac and Rook return to Washington and find Bernadette's ex-husband, a powerful attorney, shot to death. Then Bernadette disappears, and Mac and Rook realize the stakes are higher than either had imagined, and a master criminal with nothing left to lose is prepared to gamble everything.
Something about this just didn't work for me.  It started out with some promise, and I thought we were heading into some big conspiracy story.  Instead, we get a mostly crazy guy who conveniently has past ties to our main character.  A master criminal, he definitely was not. Also, since Mac and Rook already know each other when the story opens, we miss out on the chase that is often the best part of a romantic suspense. It's only a matter of time before they fall together again, especially since the reason why they were apart isn't particularly harsh. And to add insult to injury, their reunion happens way too soon.  Took all the fun out of the suspense.  I'm starting to think that maybe Neggers isn't my cup of tea.
Page count: 336 | Approximate word count: 84,000
2009: Rising Tides (Nora Roberts)
2008: Sweetheart (Chelsea Cain)
2007: The Spellman Files (Lisa Lutz)
2006: The Lost Boy (Dave Pelzer)
Used in these Challenges: 2010 100+ Reading Challenge; 2010 Reading From My Shelves Project; 2nd Reading Challenge; Pages Read Challenge Season 2; Four Month Challenge – Part 5; Countdown Challenge 2011;