2011: #56 – Dead End Dating (Kimberly Raye)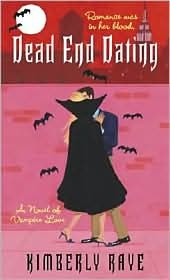 Book #56 was Dead End Dating, the first book in Kimberly Raye's Dead End Dating series. The back of the book reads:
BITING IS SO LAST SEASON.

A vivacious vampire with a flair for accessorizing, Lil Marchette is unlike most of her kind. She prefers lively shades of pink to dismal black (soo not her color), plus she's a hopeless romantic. In need of a steady paycheck to support a compulsive cosmetics habit, Lil starts Dead End Dating (DED), a Manhattan-based matchmaking service that helps smart, sophisticated singles like herself find eternity mates–and may even help her stake a claim to her very own Count Right!

When Lil meets geeky vampire Francis Deville, she knows he's the perfect first client. If she can hook up Francis–after a little revamping, of course–she will prove her skills to the vampire community and turn DED into the hottest dating service in the Big Apple. But just as her business takes off, Lil meets the (literally) drop-dead gorgeous bounty hunter Ty Bonner, who is hot on the chase of a serial killer. Instantly drawn to the luscious vamp stud, Lil really wants a taste. But as a made vampire, Ty can't procreate–and Lil will settle for nothing less. Luckily, between "vampifying" Francis and helping Ty solve his murder mystery, Lil has no time for silly romantic entanglements . . . even if Ty is all that and a Bloody Mary chaser!
This was a fun read, but there's not a lot of substance to it. You can draw some comparisons between this and MaryJanice Davidson's Undead series, but not a lot of them. Lil and Betsy are really only similar in that they are very style conscious. Otherwise, Lil is *much* less annoying.
Raye's vampires are either made or born that way, and there isn't a lot of mixing between the two. And the general population has no idea they exist. Lil is a born vampire who believes in love, and she's backing up her belief by starting a dating service, much to the chagrin of her entire family. They are more traditional, believing that matches should be made on the basis of who is most fertile, not this silly love business.
Unfortunately, there is a serial killer who is targeting women using dating services, and that's what brings bounty hunter Ty into Lil's office. Ty is a made vampire, but Lil can't help finding him just a little bit irresistible.
This is more paranormal romance than urban fantasy, but it's not a bad ride. The serial killer storyline is almost secondary to Lil's struggle to get her business off the ground. I'll probably continue the series – it's good for when you need a quick distraction.
Other reviews:
Book Review – Dead End Dating by Kimberly Raye
Review: Dead End Dating
Dead End Dating by Kimberly Raye
Page count: 352 ('11 total: 15,406) | Approximate word count: 88,000 ('11 total: 5,453,870)
2010: Chenxi and the Foreigner (Sally Rippin)
2009: Dark Places (Gillian Flynn)
2008: How I Live Now (Meg Rosoff)
2007: Basket Case (Carl Hiaasen)
2006: Fall on Your Knees (Ann-Marie MacDonald)
2005: Hard Eight (Janet Evanovich)
Used in these Challenges: 2011 TBR Pile Challenge; Outdo Yourself Reading Challenge 2011;