2011: #57 – The Sisters Brothers (Patrick deWitt)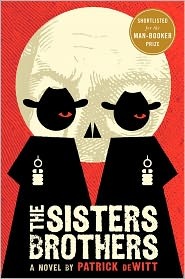 Book #57 was The Sisters Brothers by Patrick deWitt. The back of the book reads:
Hermann Kermit Warm is going to die. The enigmatic and powerful man known only as the Commodore has ordered it, and his henchmen, Eli and Charlie Sisters, will make sure of it. Though Eli doesn't share his brother's appetite for whiskey and killing, he's never known anything else. But their prey isn't an easy mark, and on the road from Oregon City to Warm's gold-mining claim outside Sacramento, Eli begins to question what he does for a living–and whom he does it for.

With The Sisters Brothers, Patrick deWitt pays homage to the classic Western, transforming it into an unforgettable comic tour de force. Filled with a remarkable cast of characters–losers, cheaters, and ne'er-do-wells from all stripes of life–and told by a complex and compelling narrator, it is a violent, lustful odyssey through the underworld of the 1850s frontier that beautifully captures the humor, melancholy, and grit of the Old West and two brothers bound by blood, violence, and love.
I have really mixed feelings about this book. There is currently a huge amount of buzz about it since it's just been short-listed for the Man Booker prize, but it really didn't speak to me. It's unfortunate, because a childhood of watching John Wayne movies with my great-grandmother has given me a soft spot for westerns.
The strength of the book is in the narrator. Eli Sisters has an unusual voice: somewhat deadpan, with glimpses of eloquence. He's a conflicted character. While his brother Charlie is a killer through and through, Eli has a conscience that rears its ugly head from time to time. He has a soft spot for his injured horse (whose plight made me awfully sad), but can shoot a man without a second thought.
If it wasn't so violent, this book could be considered a comedy of errors. For me, it was less about their journey and more about how they reacted when things went wrong.
I wish I could say I liked the book more. Despite the compelling narrator, I had a hard time liking any of the characters. I could *almost* like Eli, but there was still something missing. Something to make him human. Also, despite having extremely short chapters (2-3 pages in most cases), it was a very slow read. It took me a couple of weeks to get through the book. I just wasn't excited to pick it up at night.
This book was a review copy.
Other reviews:
The Mookse and the Gripes » Patrick deWitt: The Sisters Brothers
THE SISTERS BROTHERS – Patrick deWitt – Brain Candy Book Reviews
The Sisters Brothers – Too Many Books, Too Little Time – WordPress
The Sisters Brothers « {Book Atlas}
Hooked on Books: Review: The Sisters Brothers by Patrick DeWitt
Page count: 336 ('11 total: 15,742) | Approximate word count: 100,800 ('11 total: 5,554,670)
2010: Possessed (Kate Cann)
2009: Reunion (Therese Fowler)
2008: Fearless Fourteen (Janet Evanovich)
2007: Windmills of the Gods (Sidney Sheldon)
2006: The Weatherman (Steve Thayer)
2005: To the Nines (Janet Evanovich)
Used in these Challenges: ARC Reading Challenge 2011; Outdo Yourself Reading Challenge 2011;