2011: #71 – Grave Secret (Charlaine Harris)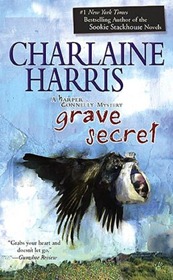 Book #71 was Grave Secret, the fourth book in the Harper Connelly series by Charlaine Harris. The back of the book reads:
Lightning-struck sleuth Harper Connelly and her stepbrother Tolliver take a break from looking for the dead to visit the two little girls they both think of as family. But as they travel to Texas, memories of their horrible childhood resurface. Family secrets ensnare them both, as Tolliver learns his father is out of jail and Harper finally discovers what happened to her missing sister Cameron so many years before. And what she finds will change her world forever.
This is the final book in in the Harper Connelly series, and it's more about Harper's family than any sort of mystery. Not that Harper's family isn't already swallowed by the mystery of her sister Cameron's disappearance. Harper and Tolliver take their budding (unconventional and unpopular) relationship to Texas to visit their little sisters, but an unfortunate incident means that they are going to be stuck there a while. Is someone after Harper? Or is Tolliver the target?
I thought Harris did a good job of wrapping up this series. Questions that have been unanswered for the previous 3 books are finally answered, and in ways that make sense but are also surprising. The only part that seemed a little too convenient was the seemingly unconnected hiring of Harper by some people with a tie to her past. This is one of Harris's odder series, but I enjoyed it nonetheless. I'm glad she wrote (what I think is) the final book and closed it out.
Other reviews:
Books Lists Life: Grave Secret by Charlaine Harris
Book Chick City: Audiobook Sunday: 'Grave Secret' by Charlaine Harris
"Grave Secret" by Charlaine Harris « Mike Finn's Fiction
Grave Secret (Harper Connelly Mysteries, Book 4)
Rex Robot Reviews: Grave Secret by Charlaine Harris
Audiobook length: 9 hrs 55 min | Approximate word count: 72,000 ('11 total: 6,998,435)
2010: The Black Ice (Michael Connelly)
2009: Do Not Deny Me (Jean Thompson)
2008: Hold Tight (Harlan Coben)
2007: Mr. Perfect (Linda Howard)
2006: Just One Look (Harlan Coben)
2005: Secret Prey (John Sandford)