2011: #13 – Moonlight Mile (Dennis Lehane)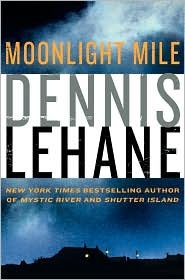 Book #13 was Moonlight Mile, the 6th book in Dennis Lehane's Patrick Kenzie and Angela Gennaro series.  The back of the book reads:
Amanda McCready was four years old when she vanished from a Boston neighborhood twelve years ago. Desperate pleas for help from the child's aunt led investigators Kenzie and Gennaro to take on the case. The pair risked everything to find the young girl—only to orchestrate her return to a neglectful mother and a broken home.

Now Amanda is sixteen—and gone again. A stellar student, brilliant but aloof, she seemed destined to escape her upbringing. Yet Amanda's aunt is once more knocking on Patrick Kenzie's door, fearing the worst for the little girl who has blossomed into a striking, clever young woman—a woman who hasn't been seen in weeks.

Haunted by their consciences, Kenzie and Gennaro revisit the case that troubled them the most. Their search leads them into a world of identity thieves, methamphetamine dealers, a mentally unstable crime boss and his equally demented wife, a priceless, thousand-year-old cross, and a happily homicidal Russian gangster. It's a world in which motives and allegiances constantly shift and mistakes are fatal.

In their desperate fight to confront the past and find Amanda McCready, Kenzie and Gennaro will be forced to question if it's possible to do the wrong thing and still be right or to do the right thing and still be wrong. As they face an evil that goes beyond broken families and broken dreams, they discover that the sins of yesterday don't always stay buried and the crimes of today could end their lives.
A lot has changed since Patrick and Angela's last book. Now married with a four-year old daughter, they are struggling to make ends meet as Patrick sticks to benign insurance and infidelity cases and Angela works on getting a degree. Then Beatrice McCready waltzes back into their lives and they're faced with a choice — Should they try to save Amanda again?
Some of Lehane's edge is gone in this book. Now that he's a dad, Patrick is less willing to take chances. But the real weak spot is in the supporting cast.  The Russian mobsters are cartoonish stereotypes, and I'm not sure Amanda's cool detachment is all that believable.  She's put in several situations that I'm sure would freak out any 16 year old, no matter how tough their upbringing is. 
But overall, I enjoyed the story, as well as revisiting some of the issues raised in Gone, Baby, Gone.
This book was a review copy.
Other reviews:
Review of "Moonlight Mile" by Dennis Lehane" « Rhapsody in Books
Book Review: *Moonlight Mile* by Dennis Lehane | She Is Too Fond of Books
Lesley's Book Nook: Moonlight Mile
Booked On a Feeling: Moonlight Mile by Dennis Lehane (thoughts)
Thoughts on "Moonlight Mile" by Dennis Lehane | Erin Reads
Page count: 336 ('11 total: 3,622) | Word count: 100,800 ('11 total: 1,218,982)
2010: No One You Know (Michelle Richmond)
2009: Upbound (Peter Hassebroek)
2008: Midnight Rain (Holly Lisle)
2007: Weep Not For The Vampire (William Veselik)
2006: Bloody Bones (Laurell K. Hamilton)
2005: Mind Prey (John Sandford)
Used in these Challenges: ARC Reading Challenge 2011; Outdo Yourself Reading Challenge 2011;