2012: #11 – Hardly Knew Her (Laura Lippman)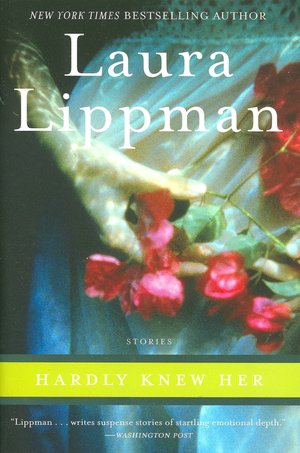 Title: Hardly Knew Her
Author: Laura Lippman
Format: Audio
Length: 9 hrs 25 min
Release Date: October 7, 2008
Publisher: William Morrow
Categories: general fiction, short stories
Source: personal copy
Rating: 4.5 out of 5
Back of the book:
New York Times bestselling author Laura Lippman has been hailed as one of the best crime fiction writers in America today, winning virtually every major award in the genre. The author of the enormously popular series featuring Baltimore P.I. Tess Monaghan as well as three critically lauded stand-alone novels, Lippman now turns her attention to short stories—and reveals another level of mastery.

Lippman sets many of the stories in this sterling anthology, Hardly Knew Her, in familiar territory: her beloved Baltimore, from downtown to its affluent suburbs, where successful businessmen go to shocking lengths to protect what they have or ruthlessly expand their holdings, while dissatisfied wives find murderous ways to escape their lives. But Lippman is also unafraid to travel—to New Orleans, to an unnamed southwestern city, and even to Dublin, the backdrop for the lethal clash of two not-so-innocents abroad. Tess Monaghan is here, in two stories and a profile, aligning herself with various underdogs. And in her extraordinary, never-before-published novella, Scratch a Woman, Lippman takes us deep into the private world of a high-priced call girl/madam and devoted soccer mom, exploring the mystery of what may, in fact, be written in the blood.

Each of these ingenious tales is a gem—sometimes poignant, sometimes humorous, always filled with delightfully unanticipated twists and reversals. For people who have yet to read Lippman, get ready to experience the spellbinding power of "one of today's most pleasing storytellers, hailed for her keen psychological insights and her compelling characterizations," (San Diego Union-Tribune), who has "invigorated the crime fiction arena with smart, innovative, and exciting work" (George Pelecanos). As for longtime devotees of her multiple award-winning novels, you'll discover that you hardly know her.
My thoughts:
This short story collection could have been subtitled "Women Who Kill", because that is essentially what most of the stories revolve around. It's a very strong collection, with only a few duds. Strangely, one of those duds was a Tess Monaghan story (Lippman's most well-known character).
It's difficult to narrow down exactly which stories were my favorites. The first story, The Crack Cocaine Diet, is fabulous just for its voice. I really enjoyed The Accidental Detective, a newspaper-style piece on Tess Monaghan that gives nice insight into the character, even if you haven't read any books in that series. Easy as A-B-C was also quite entertaining — one of the few in the collection from a male point of view. And I thought the novella, Scratch a Woman, was very good.
Lippman is an excellent weaver of stories. Even when you think you know where a story is going, she can surprise you. If you enjoy crime fiction or short story collections, I think this is a must-read.
Available from: Amazon | Barnes & Noble  | IndieBound | WorldCat
Other reviews:
"Short-story collections from established novelists are not usually good introductions to their work. But here again, Lippman is an exception to the rule." — Bookgasm
"I highly recommend this awesome collection of dark-side stories to anyone who enjoys reading mysteries or thrillers." — The Babbling Brunette
Past reviews:
2011: The Pickup (Nadine Gordimer)
2010: Kitty Takes a Holiday (Carrie Vaughn)
2009: The Brass Verdict (Michael Connelly)
2008: The Bone Garden (Tess Gerritsen)
2007: Prince of Fire (Daniel Silva)
2006: L is for Lawless (Sue Grafton)
2005: The Wide Window (Lemony Snicket)