2018: #13 – Shelter in Place (Alexander Maksik)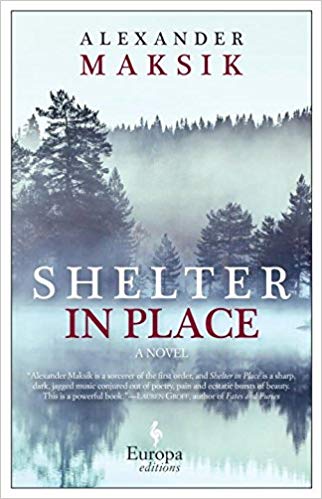 Shelter in Place
by
Alexander Maksik
Published by
Europa Editions
on September 13, 2016
Genres:
literary fiction
Pages:
400


Set in the Pacific Northwest in the jittery, jacked-up early 1990s, Shelter in Place, by one of America's most thrillingly defiant contemporary authors, is a stylish literary novel about the hereditary nature of mental illness, the fleeting intensity of youth, the obligations of family, and the dramatic consequences of love.

Joseph March, a twenty-one-year-old working class kid from Seattle, is on top of the world. He has just graduated college and his future beckons, unencumbered, limitless, magnificent. Joe's life implodes when he starts to suffer the symptoms of bipolar disorder, and, not long after, his mother kills a man she's never met with a hammer.

Joe moves to White Pine, Washington, where his mother is serving time and his father has set up house. He is followed by Tess Wolff, a fiercely independent woman with whom he has fallen in love. The lives of Joe, Tess, and Joe's father fall into the slow rhythm of daily prison visits followed by beer and pizza at a local bar. Meanwhile, Anne-Marie March, Joe's mother, is gradually becoming a local heroine as many see her crime as a furious, exasperated act of righteous rebellion. Tess, too, has fallen under her spell. Spurred on by Anne-Marie's example, Tess enlists Joe in a secret, violent plan that will forever change their lives.

Maksik sings of modern America's battered soul and of the lacerating emotions that make us human. Magnetic and masterfully told, Shelter in Place is about the things in life we are willing to die for, and those we're willing to kill for.
This was a good read, but definitely not a quick or easy one. We're introduced to Joe, a young man living his young, carefree life, tending bar in an ocean-side town in the Pacific Northwest. Then he meets Tess, who seems to be his missing puzzle piece. Together they fall into an easy summer rhythm, working, playing, loving. A rhythm that is only interrupted by 2 things — Joe's emerging bipolar disorder, which he refers to as a bird (the ups) and the tar (the downs), and some upsetting news. Joe's mother has killed a man with a hammer (not a spoiler, it's in the back cover copy).
Joe sadly leaves Tess behind and moves to be with his father near his mother in prison. Life falls into another uneasy rhythm of work and visiting his mother, until Tess reappears. It seems that maybe life can be happy again, even as Tess becomes enamored of his mother and her crime and begins to make some plans of her own.
The story moves back and forth between Joe's past, living with Tess, and Joe's present, where Tess has disappeared from his life. We don't know why she's gone, only that she is. Joe is struggling, both with her absence and his continued mental illness. I think Maksik does a good job of portraying his illness through the writing, swinging from mania to a deep depression. It's not unusual to wonder if he's just going to take his own life.
The book takes it's time getting to the the crux — what Tess's plan is and how it affects their lives — but I didn't find it to be unpleasant. I also that the underlying source of Tess's rage, the mistreatment of woman, is a subject that is coincidentally more timely now than it was in the nineties (the early part of the timeline) or 2016 (when this was published).
Overall, I think this was a good read but you have to be patient with it. It meanders a lot and the ending may be considered unsatisfactory to some, but I think it was worth the journey.
Other reviews:
"The story is about madness, love, family and deeper contemplative thoughts of everything in life and whether it is really worth it or not." – Of Books and Reading