2012: #15 – Faithful Place (Tana French)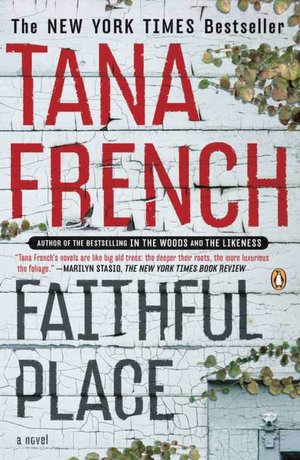 Title: Faithful Place
Author: Tana French
Series: Dublin Murder Squad #03
Format: Audio
Length: 16 hrs 17 min
Release Date: July 13, 2010
Publisher: Penguin Group
Categories: mystery, police procedural
Source: personal copy
Rating: 5 out of 5

Back of the book:
Tana French's In the Woods and The Likeness captivated readers by introducing them to her unique, character-driven style. Her singular skill at creating richly drawn, complex worlds makes her novels not mere whodunits but brilliant and satisfying novels about memory, identity, loss, and what defines us as humans. With Faithful Place, the highly praised third novel about the Dublin Murder squad, French takes readers into the mind of Frank Mackey, the hotheaded mastermind of The Likeness, as he wrestles with his own past and the family, the lover, and the neighborhood he thought he'd left behind for good.
My thoughts:
I've been strangely hesitant whenever I've started a Tana French book. I think it's because each new book features a non-POV character from the previous. With The Likeness, I thought "But I really liked Rob, what if I don't like Cassie?" With Faithful Place, it was "But I loved Cassie, who cares about Frank?" I'm pleased to say, I've learned my lesson.
This book is every bit as good as In the Woods and The Likeness were. Like those, on the surface this is a mystery, but deep down it is much more about the main character. French gives the gruff Mackey a surprising amount of depth. His reluctant return to the home of his youth shows us the motivations behind everything he does. We root for him despite his flaws and despite our inability to completely trust him. Solving the mystery is a bit like solving Frank.
I find it difficult to convey exactly what it is about French's writing that pulls me in so completely. Part of it is the characters she creates. They're just plain interesting, even the minor players. Another part of it is the dynamics between the characters. There are layers to every interaction.
I listened to the audio version of this book, and it was just as gorgeous as The Likeness was. Hearing the story in an Irish brogue lends it an extra touch of authenticity. I was sucked in from the very first chapter.
I was excited to discover that French's fourth book, Broken Harbor, comes out this summer!
Available from: Amazon | Barnes & Noble | IndieBound | WorldCat
Other reviews:
"Read if: You value good writing over a good story, you love Ireland, or you're interested in the dynamics and power of space and 'home'" — Jane & Carin 
"I loved that French really made me see all sides of what happened to the people there, including the murderer, so that I actually felt sorry for the murderer even as I felt devastated by the murders." — Rhapsody in Books
"Faithful Place is my least favorite of French's books so far, but that's still high praise, given how absolutely brilliant I thought In the Woods and The Likeness were." — Fyrefly's Book Blog
Past reviews:
2011: The Silent Hour (Michael Koryta)
2010: Heat Wave (Richard Castle)
2009: College Girl (Patricia Weitz)
2008: The Paid Companion (Amanda Quick)
2007: Dark Side of the Moon (Sherrilyn Kenyon)
2006: Burnt Offerings (Laurell K. Hamilton)
2005: F is for Fugitive (Sue Grafton)