2020: #33 – Hail to the Chef (Julie Hyzy)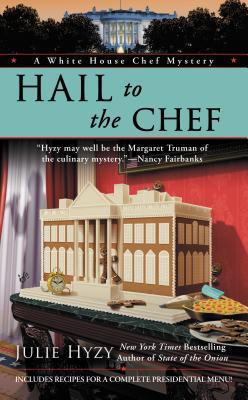 Hail to the Chef
by
Julie Hyzy
Series:
White House Chef Mystery #02
Published by
Berkley
on December 2, 2008
Genres:
cozy mystery
Pages:
328


Also by this author:
State of the Onion
Also in this series:
State of the Onion
White House executive chef Ollie Paras has to put her own interests on the back burner when a kindly electrician is electrocuted to death, and the First Lady's nephew dies in an apparent suicide less than 24 hours after cleaning shrimp with Ollie. Ollie suspects something fishy is going on. She'll have to watch her back—and find a killer unlikely to be pardoned.
I liked returning to the White House kitchen to visit with Ollie and the other chefs, but I didn't enjoy this story as much as the first one. I didn't really care about the part of the mystery around the First Lady, because the stakes weren't really very compelling. The part of the mystery around the death of the electrician was more interesting, but moved pretty slowly. Ollie's relationship with her Secret Service boyfriend might as well as not been mentioned at all. She could have been dating a cardboard cut-out, I don't even know that they directly interacted in the whole book.

But, at the end of it all I still like Ollie and reading about the workings of the kitchen. I'm sure I'll read more books in this series at some point.
Other reviews:
"This may be my favorite book of the series, partially because it is set during the holiday season. In addition to the thrilling dual storylines, I loved reading about the White House's preparation for the holidays." — Jenn's Bookshelves
"HAIL TO THE CHEF is a combination of humor, sadness and true courage. But more than that it's full of flavorful recipes, a tightly woven plot and characters that round out a truly remarkable mystery." — Mayhem and Magic