2012: #21 – Chesapeake Blue (Nora Roberts)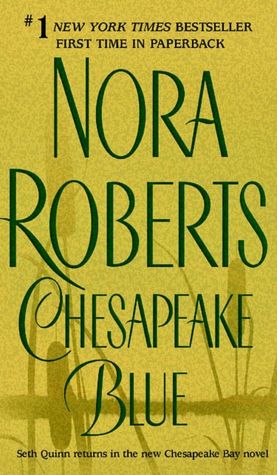 Title: Chesapeake Blue
Author: Nora Roberts
Series: Quinn Brothers #04
Format: Audio
Length: 9 hrs 18 min
Release Date: November 4, 2002
Publisher: Jove
Categories: romance
Source: personal copy
Rating: 4.5 out of 5

Back of the book:
Seth Quinn is finally home.

It's been a long journey. After a harrowing boyhood with his drug-addicted mother, he'd been taken in by the Quinn family, growing up with three older brothers who'd watched over him with love.

Now a grown man returning from Europe as a successful painter, Seth is settling down on Maryland's Eastern Shore, surrounded once again by Cam, Ethan, and Phil, their wives and children, all the blessed chaos of the extended Quinn clan. Finally, he's back in the little blue-and-white house where there's always a boat at the dock, a rocker on the porch, and a dog in the yard.

Still, a lot has changed in St. Christopher since he's been gone-and the most intriguing change of all is the presence of Dru Whitcomb Banks. A city girl who's opened a florist shop in this seaside town, she craves independence and the challenge of establishing herself without the influence of her wealthy connections. In Seth, she sees another kind of challenge-a challenge that she can't resist.
My thoughts:
Eighteen years have passed since the third book in the Quinn Brothers trilogy, and some things in St. Christopher never change. The three oldest Quinn brothers are still building boats, the Quinn wives are still putting up with their shenanigans, and everyone still supports the other, without question. But Seth has been gone for five long years, running more from his past than from his present. Almost immediately upon his return, his artist's eye is caught by the new florist, Dru, who is doing a little running of her own.
This was a solid finish to what was already a great trilogy, possibly my favorite Roberts series. There was a consistent theme of family, and how the ones you make can be more important than the one you are born into. And, of course, there was a tempestuous romance to fill in the gaps.
If you aren't already a fan of Nora Roberts, this is a great series to start with. Particularly if you are turned off by the thought of her paranormal books. There are a couple of ghosts, but nothing that I think qualify as paranormal – they're more visions than anything. What you get the most is a great family in a great setting.
Available from: Amazon | Barnes & Noble | IndieBound | WorldCat
Other reviews:
"Roberts is very good with this type of romance, with enough tension to keep the story going, yet obvious in its conclusion. It is getting to the conclusion in Chesapeake Blue that touches the reader." — Jandy's Reading Room
"I think the readers who'll enjoy Chesapeake Blue most are the readers familiar with the other books in this series, which are Sea Swept (1997), Rising Tides (1998) and Inner Harbor (1998)." — Dreamworld Book Reviews
"This book and the entire series on the Quinn Legacy are extraordinarily written with some of that Nora Robert's humor thrown in." — Book Reviews by Angie
Past reviews:
2011: Love in Infant Monkeys (Lydia Millet)
2010: Already Dead (Charlie Huston)
2009: Summer Knight (Jim Butcher)
2008: Mirror Image (Sandra Brown)
2007: The Cater Street Hangman (Anne Perry)
2006: A Caress of Twilight (Laurell K. Hamilton)
2005: The Ersatz Elevator (Lemony Snicket)