2021: #31 – A Prince on Paper (Alyssa Cole)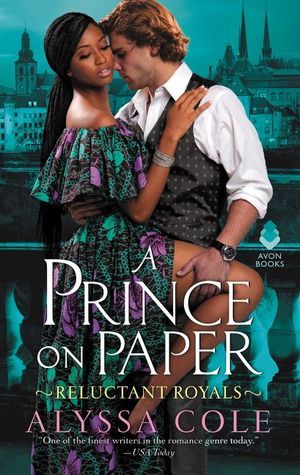 A Prince on Paper
by
Alyssa Cole
Series:
Reluctant Royals #03
Published by
Avon
on April 30, 2019
Genres:
romance
,
contemporary romance
Pages:
384


Also by this author:
A Princess in Theory
,
A Duke by Default
Also in this series:
A Princess in Theory
,
A Duke by Default
The Reluctant Royals series returns with a good girl searching for the life that's not too big, and not too small, and the bad boy prince who might be just right for her…

Nya Jerami fled Thesolo for the glitz and glamour of NYC but discovered that her Prince Charming only exists in her virtual dating games. When Nya returns home for a royal wedding, she accidentally finds herself up close and personal—in bed—with the real-life celebrity prince who she loves to hate.

For Johan von Braustein, the red-headed step-prince of Liechtienbourg, acting as paparazzi bait is a ruse that protects his brother—the heir to the throne—and his own heart. When a royal referendum threatens his brother's future, a fake engagement is the perfect way to keep the cameras on him.

Nya and Johan both have good reasons to avoid love, but as desires are laid bare behind palace doors, they must decide if their fake romance will lead to a happily-ever-after.
I didn't think this one was as strong as the first two books in the series, but it was an enjoyable read just the same. I do like how Nya has grown, and I appreciated Johan as a protective big brother, but the two of them together still felt odd. It felt a little bit like "these two minor characters haven't hooked up yet, let's hook them up together!" Regardless, Alyssa Cole knows what she's doing where the romance is involved, and I like the world she's created.
Other reviews:
"Honestly, I loved this so much. I'm so happy I'm finally reviewing it. I want everyone to read it." — Snark & Squee
"I loved a whole lot about A Prince on Paper. I loved that Johan was a really, really sweet guy who respects the heroine and loves his brother. I loved that Nya had a support system of other women who stand up for her and protect her. I loved the fantasy-European kingdom this book is set it. I loved the fake engagement. The thing that didn't work for me was that the hero had some pretty profound trauma, and I never felt he resolved it." — Smart Bitches Trashy Books
"So anyhow, this is all about building trust and breaking down barriers between two people who had been hurt time and time again in the past, with a heavy dose of teen angst and rebellion." — The Suspected Bibliophile