2012: #8 – Master of Ecstasy (Nina Bangs)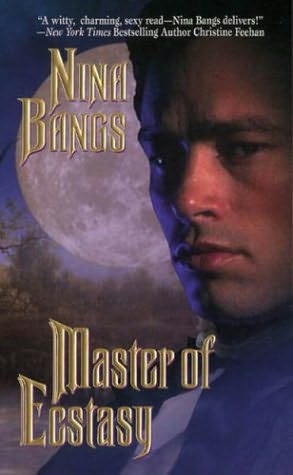 Title: Master Of Ecstasy
Author: Nina Bangs
Series: MacKenzie Vampires #01
Format: Kindle
Pages: 358 (2012 total – 2,214)
Approx. Word Count: 89,500 (2012 total – 631,504)
Release Date: December 29, 2003
Publisher: Dorchester Lovespell
Categories: paranormal romance
Source: personal copy
Rating: 3 out of 5

Back of the book:
WARRIOR, HIGHLANDER, VAMPIRE

Meet the MASTER OF ECSTASY. Darach MacKenzie is everything dark, dangerous, and delicious. His voice is a tempting slide of sin, and he's the primitive need that lives in every woman, no matter how much she denies it. But even five hundred years of sensual knowledge haven't prepared him for the woman who awaits him in his clan's ancestral castle.

HAPPINESS IS HER BUSINESS

In a distant future, Blythe works for Ecstasy Inc. to make people happy. That's her job, and she does it well. Company policy forbids the use of sensual solutions to cure unhappiness, and Blythe agrees that sex is a short-term fix. When her abilities are called into question, Blythe travels back to the Scottish Highlands of 1785 to prove that she can make anyone happy. She hasn't counted on a centuries-old vampire for a client.

Darach believes that sexual pleasure is the key to happiness. Blythe thinks that Ecstasy Inc. has all the answers. Neither one considers love as an option. They're about to discover how wrong they can be.
My thoughts:
Master of Ecstasy is a paranormal romance that lean towards erotica without actually being erotica. It certainly has its share of sex, but I don't think it has anything more than a lot of other romances I've read. What it also has is its fair share of humor, which cuts the sexiness quite a bit. The world-building is very odd, a mixture of 1700s Scotland and the future. I'm not sure that I'll read any more in the series. It wasn't bad, it just didn't really hold my interest much.
Available from: Amazon | Barnes & Noble | IndieBound | WorldCat
Other reviews:
"When it comes to combining sexy situations and humor, Bangs has it nailed." — RT Book Reviews
"This was a great start to the Mackenzie Vampire series." — Book Love
Past reviews:
2011: Crazy Hot (Tara Janzen)
2010: Tongue in Chic (Christina Dodd)
2009: The Stupidest Angel (Christopher Moore)
2008: Loyalty in Death (J.D. Robb)
2007: Tokyo Woes (Bruce Jay Friedman)
2006: The Surgeon (Tess Gerritsen)
2005: One for the Money (Janet Evanovich)