2012: #6 – Tempting Danger (Eileen Wilks)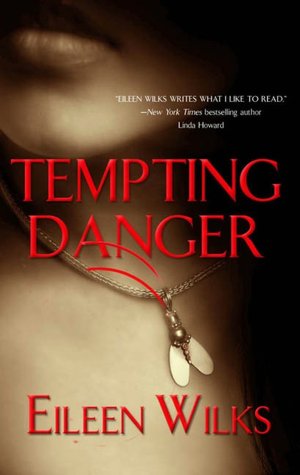 Title: Tempting Danger
Author: Eileen Wilks
Series: The World of the Lupi #01
Format: Kindle
Pages: 320 (2012 total – 1,584)
Word Count: 99,200 (2012 total – 474,004)
Release Date: October 04, 2004
Publisher: Berkley (MM)
Categories: paranormal fantasy, werewolves
Source: personal copy
Rating: 3 out of 5

Back of the book:
Lily Yu is a San Diego police detective investigating a series of grisly murders that appear to be the work of a werewolf. To hunt down the killer, she must infiltrate the clans. Only one man can help her–a were named Rule Turner, a prince of the lupi, whose charismatic presence disturbs Lily. Rule has his own reasons for helping the investigation–reasons he doesn't want to share with Lily. Logic and honor demand she keep her distance, but the attraction between them is immediate and devastating-and beyond human reason. Now, in a race to fend off evil, Lily finds herself in uncharted territory, tested as never before, and at her back a man who she's not sure she can trust ….
My thoughts:
This is pretty much your run-of-the-mill paranormal romance. Lily is human, for the most part. She does have some psychic powers. Rule is not only a werewolf, he's the prince of the local dominant pack. Of course, sparks fly, and angst ensues.
There is one major flaw. I felt that you're thrown into the story a bit suddenly. The book opens with the murder scene, and there you are in the middle of everything with very little world-building. It took me several chapters to feel like I had a handle on the world and its various creatures and politics. I was so confused I actually checked to make sure this was indeed the first book in the series. This meant it took me that much longer to connect with the characters.
Overall, it wasn't a bad read, it just could have been better. I'm sure I'll read more in the series.
Available from: Amazon | Barnes & Noble | IndieBound | WorldCat
Other reviews:
"In the hands of a less skilled writer, Tempting Danger probably would have been fairly mind numbing." — The Romance Reader
"I can't wait to read the next book in the series" — Badass Book Reviews
"This is definitely a series with great potential." — A Book Obsession
Past reviews:
2011: The Cypress House (Michael Koryta)
2010: Little Children (Tom Perrotta)
2009: Summer (Edith Wharton)
2008: Dead Witch Walking (Kim Harrison)
2007: Between Friends (Debbie Macomber)
2006: The Rule of Four (Ian Caldwell and Dustin Thomason)
2005: D is for Deadbeat (Sue Grafton)