2016: Rusty Nail (J.A. Konrath)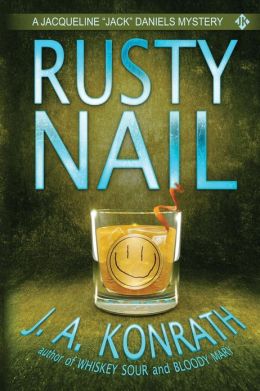 Rusty Nail
Jacqueline Daniels #03
Police Procedural
Createspace Independent Pub
February 1, 2013
280

Lt. Jacqueline "Jack" Daniels of the Chicago Police Department is back, and once again she's up to her Armani in murder.
Someone is sending Jack snuff videos. The victims are people she knows, and they share a common trait -- each was involved in one of Jack's previous cases. With her stalwart partner hospitalized and unable to help, Jack follows a trail of death throughout the Midwest, on a collision course with the smartest and deadliest adversary she's ever known.
During the chase, Jack jeopardizes her career, her love life, and her closest friends. She also comes to a startling realization -- serial killers have families, and blood runs thick.
Rusty Nail features more of the laugh-out-loud humor and crazy characters that saturated Whiskey Sour and Bloody Mary, without sacrificing the nail-biting thrills. This is Jack Daniels's third, and most exciting, adventure yet.
J.A. Konrath is brutal. He can dream up some of the sickest, most twisted things I've ever seen in print (maybe a little bit of influence from Albert Fish here?). Yet it's not overwhelming, tempered by Jack's competency and sense of humor. These books keep me engaged, and there was a twist at the end of this one that I didn't see coming until it was upon me.
Other reviews:
"I'd recommend Rusty Nail to fans of the genre but I myself will not be reading more of Konrath's work unless he scales back on the horror." — Bibliophile's Corner
"Rusty Nail continues Konrath's display of deeply dedicated and well-documented research." — Horrorview
"Jack Daniels proves almost as good company as her namesake, and if you stay up all night with her, you can still go to work in the morning and there is no hangover." — Mystery*File