2016: Dirty Martini (J.A. Konrath)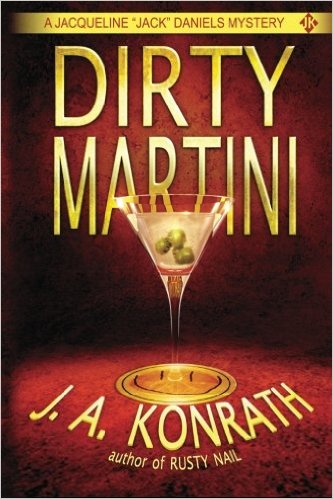 Dirty Martini
Jacqueline Daniels #04
Police Procedural
Createspace Independent Pub
February 6, 2013
252

In Whiskey Sour, Chicago police Lieutenant Jacqueline "Jack" Daniels hunted down a killer dubbed "The Gingerbread Man."
In Bloody Mary, she busted a psychopath with a penchant for dismemberment.
In Rusty Nail, it was a serial killer with a doozy of a family tree.
And now, in Dirty Martini, Jack faces her toughest adversary yet: a sicko who's poisoning the city's food supply. But that's just the start of what he has planned, because he's aiming to kill fifty thousand people in the single biggest act of terrorism the US has ever seen. Can she stop him -- and decide whether to accept boyfriend Latham's surprise proposal -- without destroying both her reputation and her sanity?
Join Jack, her partner Herb, and her nemesis Harry McGlade, for her fourth, and greatest, case so far.
This was a scary scenario! Someone is going around the city of Chicago and randomly poisoning people. That potato salad you bought from the deli? It could kill you. Ordering breakfast at your local diner? He might get you there too! Is there going to be poison in the air? The water? Where can you go? What can you EAT?
Luckily, Jack is there to answer these questions and save the day, but not without loss.
I enjoy the tone of this series. Konrath has a knack for dreaming up things that are just a little more dastardly than what you normally see. He pulls no punches. I also appreciate the setting more now that I've been to Chicago. Every once in a while I think, "Hey, I know where that is!". This is a series I plan to continue!
Other reviews:
"The bottom line is that this was a good yarn, and has enough meat on the bone to make me want to read another novel in this series … and, like I said, I'm not a big mystery fan." — Wag the Fox
"While I have no problem with the disturbing nature of the serial killers in the previous books, I found that I enjoyed this book even more than the previous three." — Wendy's Opinion on Books