2006: #50 – The Hostile Hospital (Lemony Snicket)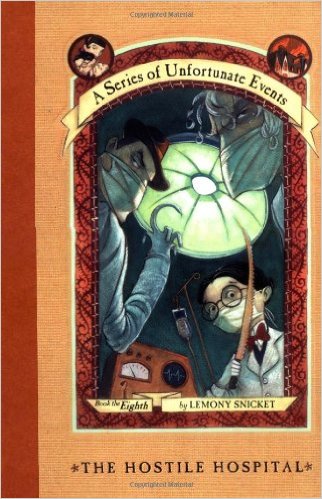 The Hostile Hospital
Series of Unfortunate Events #08
Juvenile Fiction
HarperCollins
September 4, 2001
272

Dear Reader,
Before you throw this awful book to the ground and run as far away from it as possible, you should probably know why. This book is the only one which describes every last detail of the Baudelaire children's miserable stay at Heimlich Hospital, which makes it one of the most dreadful books in the world.
There are many pleasant things to read about, but this books contains none of them. Within its pages are such burdensome details as misleading newspaper headlines, unnecessary surgery, an intercom system, anesthesia, heart-shaped balloons, and some very startling news about such things.
I have sworn to research this story, and to write it down as best I can, so I should know that this book is something best left on the ground, where you undoubtedly found it.
With all due respect,
Lemony Snicket
Book #50 was The Hostile Hospital, the 8th book in Lemony Snicket's Series of Unfortunate Events. T
I *finally* finished listening to this in the car last night. I'm glad he's continued to shake up the pattern of events in the book. The end of this one was the best cliffhanger yet. I think this may have been the longest book so far.
Book count: 50
Pages in book: 255
Page count: 19,538
Words in book: 38,131
Word count: 5,631,029
1,000,000 words surpassed — 2/2/06
2,000,000 words surpassed — 2/14/06
10,000 pages surpassed — 3/10/06
3,000,000 words surpassed — 3/16/06
4,000,000 words surpassed — 4/3/06
5,000,000 words surpassed — 5/30/06
50 books surpassed – 6/12/06