2005: #11 – The Wide Window (Lemony Snicket)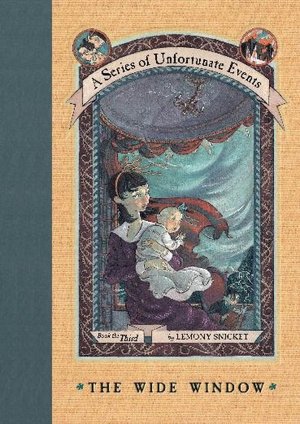 The Wide Window
by
Lemony Snicket
Series:
A Series of Unfortunate Events #03
Published by
HarperCollins Publishers
on February 25th 2000
Genres:
middle grade
Pages:
214


Also by this author:
The Bad Beginning
,
The Reptile Room
,
The Miserable Mill
,
The Austere Academy
,
The Ersatz Elevator
Also in this series:
The Bad Beginning
,
The Reptile Room
,
The Miserable Mill
,
The Austere Academy
,
The Ersatz Elevator
Dear Reader,

If you have not read anything about the Baudelaire orphans, then before you read even one more sentence, you should know this: Violet, Klaus, and Sunny are kindhearted and quick-witted, but their lives, I am sorry to say, are filled with bad luck and misery. All of the stories about these three children are unhappy and wretched, and this one may be the worst of them all.

If you haven't got the stomach for a story that includes a hurricane, a signalling device, hungry leeches, cold cucumber soup, a horrible villain, and a doll named Pretty Penny, then this book will probably fill you with despair.

I will continue to record these tragic tales, for that is what I do. You, however, should decide for yourself whether you can possibly endure this miserable story.

With all due respect,
Lemony Snicket
I finished book #11 on my mp3 player while on the treadmill last night. It was the third book in Lemony Snicket's A Series of Unfortunate Events, The Wide Window.
I've already expressed my dissatisfaction with Lemony Snicket as audio book narrator, but the book itself was fine. They're getting a little formulaic, but you have to learn to lower your expectations when you're reading books meant for children. And even I learned something from the little grammar, vocabulary, and history tidbits woven into the story. I've already started the 4th book.
Extra note: I noticed while perusing the 50 book challenge LiveJournal that there's a second challenge joined with it — to read 15,000 pages. I might as well start logging pages too. I'm going to backtrack and put in the page totals for everything I've read so far.
Page count: 3,291/15,000