2006: #49 – All That Remains (Patricia Cornwell)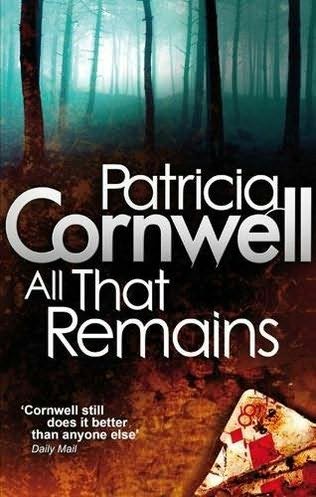 All That Remains
by
Patricia Cornwell
Series:
Kay Scarpetta #03
Published by
Pocket Star Books
on June 30, 2009
Genres:
mystery
,
police procedural
Pages:
463


Also by this author:
Cause of Death
,
Postmortem
Also in this series:
Cause of Death
,
Postmortem
In Richmond, Virginia, young lovers are dying. So far, four couples in the area have disappeared, only to be found months later as mutilated corpses. When the daughter of the president's newest drug czar vanishes along with her boyfriend, Dr. Kay Scarpetta knows time is short. Following a macabre trail of evidence that ties the present homicides to a grisly crime in the past, Kay must draw upon her own personal resources to track down a murderer who is as skilled at eliminating clues as Kay is at finding them...
Book #49 was All That Remains, the 3rd book in Patricia Cornwell's Kay Scarpetta series.
It's interesting to read these early books in the series after reading a lot of the later ones. Fills in the blanks on some of the back story. Overall, this one was pretty good, though there was some stuff jumped over in the end, like Cornwell didn't want to go over a certain number of pages, so she just refers to it instead of actually writing about it.
Book count: 49
Pages in book: 416
Page count: 19,283
Words in book: 107,070
Word count: 5,592,898
1,000,000 words surpassed — 2/2/06
2,000,000 words surpassed — 2/14/06
10,000 pages surpassed — 3/10/06
3,000,000 words surpassed — 3/16/06
4,000,000 words surpassed — 4/3/06
5,000,000 words surpassed — 5/30/06