2006: #51 – The Carnivorous Carnival (Lemony Snicket)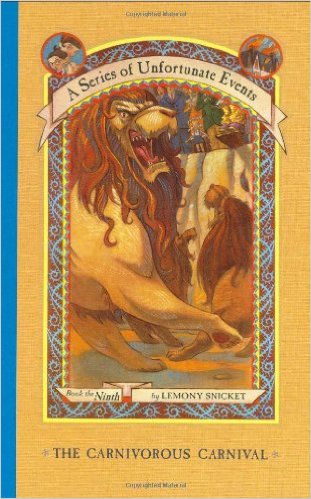 The Carnivorous Carnival
Series of Unfortunate Events #09
Juvenile Fiction
HarperCollins
October 29, 2002
304

Everybody loves a carnival! Who can fail to delight in the colorful people, the unworldly spectacle, the fabulous freaks? A carnival is a place for good family fun, as long as one has a family, that is. For the Baudelaire orphans, their time at a carnival turns out to be yet another episode in a now unbearable series of unfortunate events. In fact, in this appalling ninth installment in Lemony Snicket's serial, the siblings must confront a terrible lie, an ambidextrous person, a caravan, and Chabo the wolf baby.
Book #51 was The Carnivorous Carnival, book the ninth in Lemony Snicket's Series of Unfortunate Events.
I'm still enjoying these. They're great for listening to in the car. And I like how the Baudelaires are growing. Sonny no longer has to be translated every time she speaks! Plus, the mystery is getting more mysterious, and the endings are getting more unexpected! I'll probably start the next one after I get back from vacation.
Book count: 51
Pages in book: 304
Page count: 19,842
Words in book: 44,242
Word count: 5,675,271
1,000,000 words surpassed — 2/2/06
2,000,000 words surpassed — 2/14/06
10,000 pages surpassed — 3/10/06
3,000,000 words surpassed — 3/16/06
4,000,000 words surpassed — 4/3/06
5,000,000 words surpassed — 5/30/06
50 books surpassed — 6/12/06