2006: #52 – The Winds of War (Herman Wouk)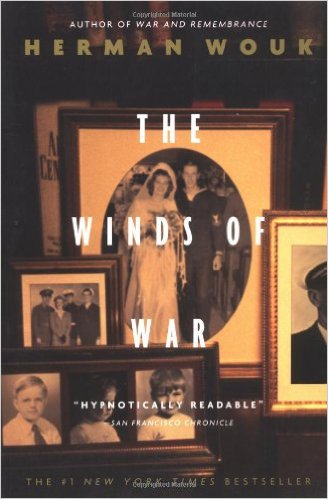 The Winds of War
Historical Fiction
Back Bay Books
February 5, 2002
896

Follows the various members of the Henry family as they become involved in the events preceding America's involvement in World War II and captures all the drama, romance, heroism, and tragedy of the Second World War-and that constitute Wouk's crowning achievement-are available for the first time in trade paperback.
Book #52 was The Winds of War, by Herman Wouk.
This started out a little slow, but by the time the war started, the character backgrounds were done and the story started moving. I learned a lot about the war in this book. I think Americans tend to not care much about WWII before we got into it, but it was rather interesting to see all the diplomatic stuff that was going on. There were also sections that were basically descriptions of military plans from the point of view of a German officer. That was rather interesting as well.
The thing that really caught me by surprise was how the characters reacted to Pearl Harbor. Maybe it's because they're a military family, but it was all taken in stride — just another attack. There wasn't even any mention of all the lives lost, and there was barely a mention of Roosevelt's infamous speech.
I'm wondering if there's a sequel, because the book ends with several story lines very much up in the air.
Book count: 52
Pages in book: 1047
Page count: 20,889
Words in book: 367,787
Word count: 6,043,058
1,000,000 words surpassed — 2/2/06
2,000,000 words surpassed — 2/14/06
10,000 pages surpassed — 3/10/06
3,000,000 words surpassed — 3/16/06
4,000,000 words surpassed — 4/3/06
5,000,000 words surpassed — 5/30/06
50 books surpassed — 6/12/06
20,000 pages surpassed — 6/29/06
6,000,000 words surpassed — 6/29/06