2006: #59 – The Forgotten (Faye Kellerman)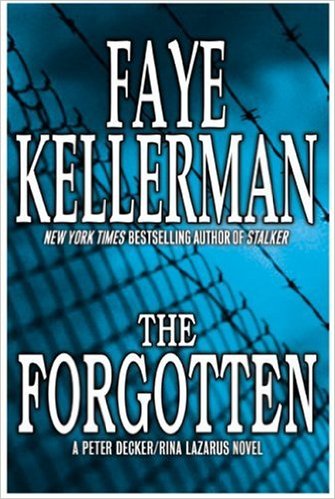 The Forgotten
Peter Decker/Rita Lazarus #13
Detective Fiction
William Morrow
August 14, 2001
384

The unofficial caretaker of her small storefront synagogue, Rina Lazarus is shocked when she receives a call from the police. The modest place of worship has been desecrated with anti-Semitic graffiti. Rina's husband, Lt. Peter Decker, is also rocked by this outrage that cuts close to the spiritual heart of his family.
A suspect is soon in custody. Seventeen-year-old Ernesto Golding is an L.A. "rich kid" obsessed with suspicions about his Polish paternal grandfather who moved to Argentina after the Third Reich collapsed. Charges are brought against Golding, a deal is cut, and the vandalism case is eventually closed.
Six months later, Ernesto is found brutally murdered, along with his therapist, Dr. Mervin Baldwin, at the psychologist's exclusive nature camp that caters to moneyed, troubled children. Immediate suspicion falls on Baldwin's psychologist wife, Dee, who has vanished mysteriously.
Unraveling the truth behind Ernesto's violent death pushes Decker and Rina into the ghastly world of ruthless parents and damaged youth. Lethal secrets surface with roots in the horrors of a past generation, propelling them on a journey of dark evils -- and ultimate retribution.

Book #59 was The Forgotten, the 13th book in Faye Kellerman's Peter Decker and Rita Lazarus series.
Though I've been reading her husband's books for years, I'd never read a Faye Kellerman book. I picked up this for cheap at the book fair and decided to give it a shot. I didn't realize it was the 13th in a series! There was obviously back story, but I don't feel like I was missing too much. The book itself was pretty good. I found myself fairly engrossed by the end. I wasn't expecting to finish it last night, but before I knew it, I was done!
Book count: 59
Pages in book: 592
Page count: 23,829
Words in book: 118,268
Word count: 6,883,494
1,000,000 words surpassed — 2/2/06
2,000,000 words surpassed — 2/14/06
10,000 pages surpassed — 3/10/06
3,000,000 words surpassed — 3/16/06
4,000,000 words surpassed — 4/3/06
5,000,000 words surpassed — 5/30/06
50 books surpassed — 6/12/06
20,000 pages surpassed — 6/29/06
6,000,000 words surpassed — 6/29/06