2011: #12 – Bloody Mary (J.A. Konrath)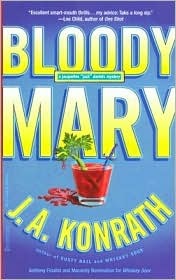 Book #12 was Bloody Mary, the second book in J.A. Konrath's Jack Daniels series.  The back of the book reads:
Lieutenant Jack Daniels is back, and this time she has to solve one of her goriest cases ever. Someone is running around Chicago dismembering women, and the spare body parts are winding up at the local morgue. In addition to the headaches of the job, she also has to deal with her mother showing up to live with her, as well as the reappearance of her ex-husband, right when she'd thought she was making progress in a relationship with a new boyfriend. Along with her binge-eating partner Herb, who's on a failing quest to find the perfect diet, we see Jack track down and convict one of the scariest serial killers in recent memory – but not before she becomes a target of his wrath, as well.
I liked this second book in the series a little more than the first.  Here, Jack is a little more comfortable in her skin, even if her mother is mad at her, her ex-husband is making a move on her, and her partner is having a mid-life crisis.  Oh, and someone is leaving body parts in the morgue with her belongings attached to them. The rhythm in this book is a little different, sort of like a Law & Order episode — police wrangling in the first half, and legal wrangling in the second. I think this was a good move, because the serial killer's point of view is very heavy-handed, and I think an entire book of chasing him could have been too much. But I think what stands out the most is the ending.  It's not exactly happy, not exactly sad, and a lot about Jack's life is very much up in the air.  What better way to make the reader want to pick up the next book?
Page count: 368 ('11 total: 3,286) | Word count: 70,067 ('11 total: 1,118,182)
2010: Eat This, Not That (David Zinczenko)
2009: All Night Long (Jayne Ann Krentz)
2008: Nineteen Minutes (Jodi Picoult)
2007: The 5th Horseman (James Patterson)
2006: The Lunatic Cafe (Laurell K. Hamilton)
2005: The Miserable Mill (Lemony Snicket)
Used in these Challenges: Four Month Challenge – Part 5; Countdown Challenge 2011; 2011 E-book Reading Challenge; Outdo Yourself Reading Challenge 2011;